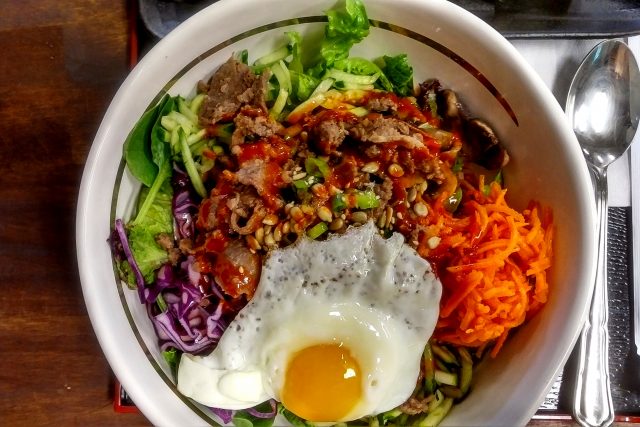 Reading Time:
3
minutes

The end of February is nigh!
Here are a few dishes that you might want to try out. For more good eats, visit Waterloo Chronicle and Cambridge Times.
[Please check with individual venues for dish availability, pandemic processes and hours of opening.]
*****
Located in what was formerly "ArtHaus150" on the west side of Victoria Street South between Park and Theresa streets, Taste of Seoul is mostly commercial kitchen but one which serves up, among other meals, a very good bibimbap, a favourite dish of mine.

The small venue, with informal seating for about 10, has built quite a loyal following. You'll find udon noodles, japchae (glass noodles), rice bowls and sides of miso soup and kimchi.

The bibimbap is a classic Korean dish of rice, vegetables, a protein, a couple of sauces and usually a sunny side-up fried egg. It's bowl of goodness that is balanced in its flavours and textures and sparkles with its presentation.

The word bibimbap translates to something akin to "mixed rice" – and the best way to eat the dish is to mix it all together and gobble it down. For that, there's both chopsticks and, traditionally, a long-handled spoon.

Owner Jin Hwa Chye says the dish is often prepared with cooked vegetables, but the Taste of Seoul version has a good healthy dose of fresh lettuces and ribbons of cucumber.

"We kind of do it like a salad," she says.

"There are six kinds of vegetables that we put in it and add our home-made teriyaki sauce and a sauce of fermented red pepper paste."
For take-out and delivery, try the Breakfast Burrito. I devoured quick quickly the hefty and refreshing wrap that will get you through the better part of your day.
The tortilla is tightly packed with omelette-like egg, red peppers and sautéed mushrooms. Chopped Stemmler's Black Forest ham and a slightly tangy aged Cheddar round it out. It's lightly grilled and served with salsa, sour cream and slices of apple and orange.
Whatever you're eating, it's always better in a neighbourhood setting, which is a point of pride for the café, according to Steve Tulloch of Seven Shores.

"Building that sense of community really matters a lot to us."
Elixir is now in Belmont Village!
He's been a stalwart in a tough industry where margins are thin, customers fickle, costs always on the increase and central downtown cores in a seeming Sisyphean struggle, but Pirooz Jafari of Elixir Bistro still loves being in the kitchen.
"I just cook," says Jafari. "I just keep going."
I've had several good meals at Elixir. Jafari loves big, hearty dishes like boeuf Bourguignonne and coq au vin (and so do I): he gets excited when he talks about them. Add to those his duck confit and bouillabaisse (with saffron), two other definitive French dishes.

"I cook French-based. And then I grab anything that tastes good to me. I cook and if I like it, I will serve it," he says.