"Gifts of Goodness" from Canadian Women in Food
Reading Time:
2
minutes
Canadian Women In Food (CWIF), a national association to help amplify the voices of female food entrepreneurs formed in 2014, has created "Gifts of Goodness Holiday Basket Bundles."
The gourmet gift baskets are available to ship across Canada and feature a wide array of gourmet products: wine, olive oil, artisan chocolates, sauces, cookies, tapenade, maple roasted nuts, vegan cheeses, olives, wholesome baking mixes, jellies, dips, baked goods, teas, grains, fresh fruits, veggies and more.

The key thing is … they are all from female food entrepreneurs.
"We wanted to highlight the incredible spirit of female food entrepreneurs and show how food can bring people together in a meaningful way," said Andrea Watson, CWIF brand ambassador, who is graciously providing online ordering and distribution. "Whether you're thanking your customers for their amazing support this past year or just wanting to treat someone with something special, giving a Gift of Goodness will WOW every taste bud."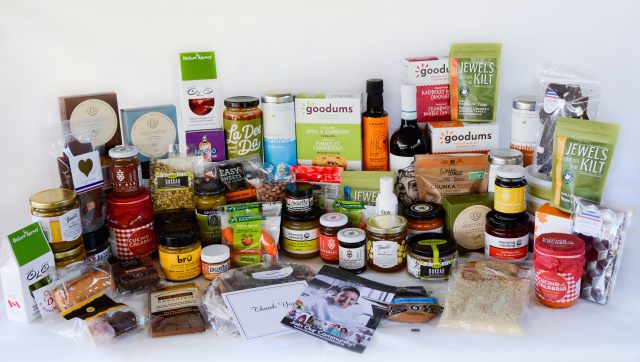 CWIF promotes women-owned businesses and cultivates the positive energy that comes from women supporting women at the same time it "stirs up" the spirit of female food entrepreneurs by creating opportunities for economic growth.
Contactless delivery options are available and 10% of proceeds will help support emergency food provisioning programs of Building Roots (buildingroots.ca).
There are two basket options (items will vary in each box):
— The Gourmet Gifts of Goodness, Only $99 (Retail Value of $200+)
— Mini Gourmet Gifts of Goodness, Only $49 (Retail Value of $100+)
Single orders placed online will be shipped locally in the Greater Toronto Area for a $10 flat fee. To arrange delivery to multiple addresses, pick up or to ship anywhere in Canada, email contact@natureknows.ca for information and rates.
"In the face of an unprecedented lockdown, and without access to sell through proper channels, small business owners are vulnerable to the financial impact of a stocked inventory and no feasible platforms to sell on. We're really proud to see our members push through this and find ways to innovate and collaborate," said Cheryl Appleton, Founder of Canadian Women in Food.
Gifts of Goodness Holiday Basket Bundles are available for a limited time only, so shop early and pre-order before December 1, 12 noon EST.