Fruit arcana: raspberries are "caneberries"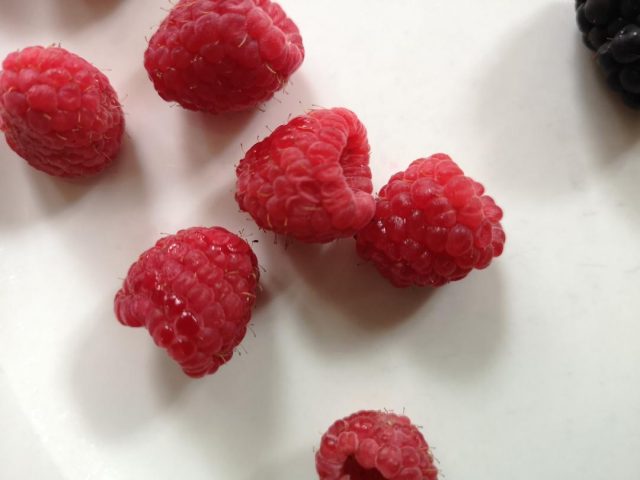 Reading Time:
2
minutes
We are seeing some nice plump Ontario raspberries, or will be very soon. More than even fresh local strawberies, I favour raspberries.

The delicate and easily bruised tender fruit has a relatively short season in Ontario from now until September or October, but they always deliver huge flavour and berry satisfaction.
Botanically a member of the rose family, raspberries are part of a group of berries known as "caneberries," which grow on thin and thorny stalks or "canes."

They likely originated in Asia thousands of years ago and eventually made it to the west in the 1600s where they have been cultivated ever since. They thrive in temperate northern regions of the world.
The caneberry group includes blackberries, loganberries, boysenberries and cloudberries, which are found in Scandinavia. You might also see them in deep purple or golden hues.

Because they are not a single fruit derived from the plant's ovary, like a blueberry, raspberries are not considered a true berry.
And whatever colour, they are delicious however perishable and fragile they might be. While they can be picked mature but still green, they will ripen quickly and usually have a relatively short shelf-life of only a few days even in the refrigerator. They are difficult to wash as well.
Despite their delicate nature, raspberries are versatile. While they are probably best consumed as a fresh fruit and eaten on their own for peak flavour (I particularly like them on my breakfast cereal), they also make interesting sauces for beef, pork, duck and even scallops.
To do that, combine raspberries with an acid such as cider, red wine, balsamic vinegar, or some sherry, along with a bit of sugar and cook the combination to reduce it.

As such, raspberries can contribute a delightful sweet-and-sour component to a main course protein or be used in a salad dressing for fresh soft lettuces that are coming out of farmers' fields right now.

Eat your fresh, local raspberries while ye may! They are only around for a few short months of summer.