Babka, Aura-la and Seinfeld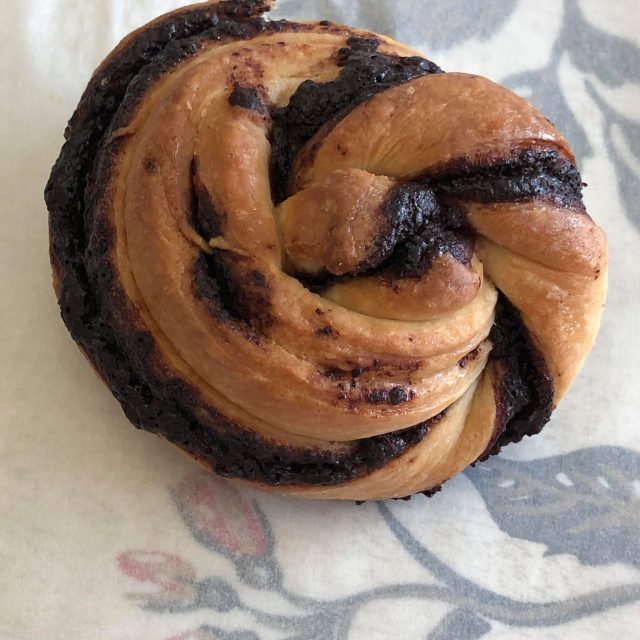 Reading Time:
3
minutes

[previously posted] The chocolate babka and its sister bread the cinnamon babka, though difficult to find in Waterloo Region, have been firmly entrenched in their own niche compartment of pop culture by virtue of "The Dinner Party" television episode of "Seinfeld."
Also known as the "black and white cookie" episode, which aired in the mid-1990s, Jerry and Elaine forget to "take a number" at Royal Bakery and, having just missed the last chocolate babka, must settle for the cinnamon version.
Elaine pouts that she has to purchase what she calls a "lesser babka."
The cinnamon does seem to be a bit of a sticking point, if you ask Aura Hertzog of Kitchener's Aura-la.
Family memories … "little grandmother"
The bakery in Kitchener's Central Frederick neighbourhood makes a chocolate babka with some cinnamon that for her is part of her family memories.
"My grandmother will be was 103 in May. Whenever we used to visit her, there was always baking served. She'd pull a babka out of the freezer and heat it in her 1950s range. We'd sit and eat nearly an entire loaf with its warm chocolate."

The babka is an eastern European "braided" loaf, the name of which translates as "little grandmother."
Otherwise, it has an obscure history. One thread is that it's a Polish-Jewish creation; another is that the chocolate version is mid-century Jewish-American.
There are a few varieties which include different fillings, possibly rum, raisins and a variety of streusel toppings.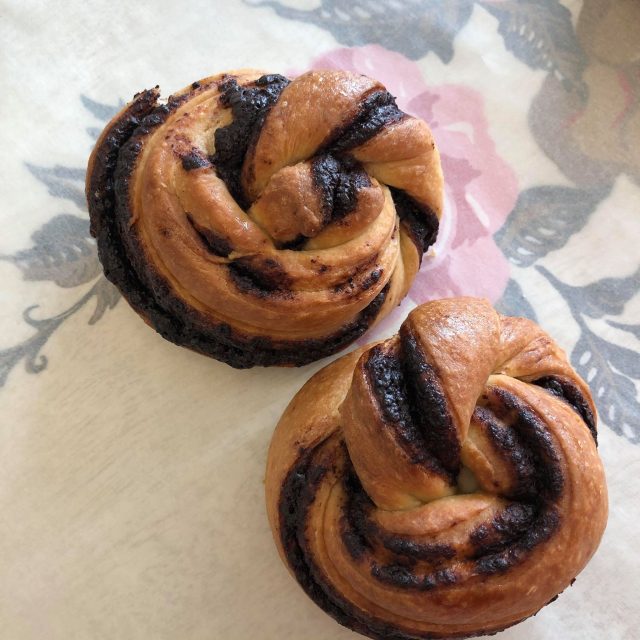 Hertzog doesn't know of any religious or cultural significance in the braiding of the bread as there is with the interwoven strands of challah bread.
Not of Biblical proportions
Rabbi Moshe Goldman of Rohr Chabad Centre for Jewish Life Waterloo Region says it has no religious symbolism.
"Challah is in the Bible," Rabbi Goldman says frankly. "Babka is not in the Bible."
Regardless, they are a definitive New York foodstuff. "But we're the only ones making them in Waterloo Region," says Hertzog.
Her version is an individual babka, almost like a large bun. She says that they sold better than the full-sized loaf. "It seems people like to buy personal sizes."
Made with a yeasted dough, the construction of the babka is perfect for those who like to play with their food. "You can unravel the chocolate layers," she says.
Bean-to-bar chocolate
Another way to envision the texture is to think of a chocolaty cinnamon bun but with more firmness; the babka has a more sturdy, hearty dough and is the opposite of, say, a light and almost fluffy brioche, she notes. "The chocolate gives it some softness."
Hertzog rolls out the dough and adds the considerable benefit of Ambrosia's hallmark product: their homemade bean-to-bar chocolate.
She starts with cacao beans which are stone-ground, conched and refined. She then makes a paste with the chocolate which is spread on the dough, and it's folded a few times.
"We then cut the dough into strips and twist them," says Hertzog. The recipe was honed and perfected through trial and error.
In a time before social distancing, the Aura-la babka was baked daily; a Saturday would see a couple of dozen babkas fly off the shelf.
Under current circumstances, however, Hertzog is taking orders and then baking. "Right now, we're trying for as little contact between staff and customers as possible."
Was Elaine right?
Though Ambrosia tried a cinnamon babka, Hertzog says it never seemed to taste as good as the chocolate babka.
"We thought we'd go with the chocolate version and highlight the chocolate we make here," she says.
So, there you go. Perhaps Elaine was right: cinnamon might be the lesser babka after all.
Note: Aura-la makes babkas weekly; check with the store for details.

[Banner image/Aura-la]