Hop House at White Rabbit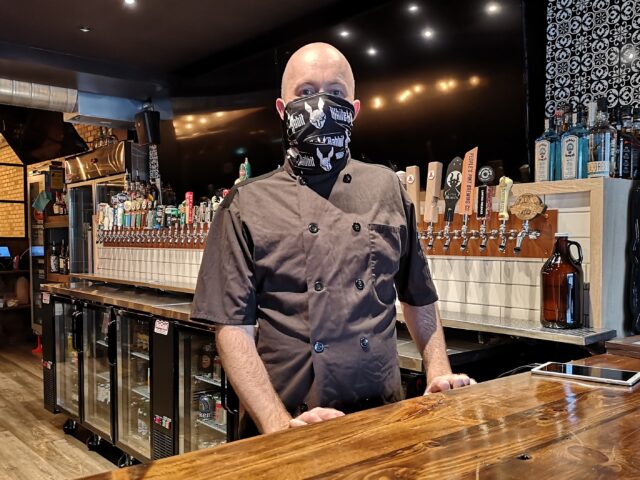 Reading Time:
2
minutes
[Published earlier] A few customers sit at the gleaming wooden bar at Hop House sipping beer and watching sports talk-shows. The dining room has a few scattered tables, mostly couples, chatting quietly. The atmosphere, despite Beastie Boys playing and a voluble waiter with an upbeat demeanour, was sombre. Even the guys at the bar were relatively quiet.
It's blustery cold outside, and it's January 4: the last dinner service before restaurant dining rooms are shuttered, once again, due to the pandemic. Welcome to an Omicron new year.

Hop House, sister venue to popular White Rabbit next door and sharing the same entrance vestibule and kitchen, opened in October specializing in craft beer, a hoppy response to White Rabbit's cocktails and superlative bar creations.
Inside is sports-bar meets pub décor: a centrepiece bar with dozens of taps, tin ceilings in a couple of areas and exposed electrical conduits, lots of brick, iron and wood, high-top tables and booths.
Offering a view of King Street are two garage doors waiting for summer to roll open. It's warm and comfortable, despite the chill of reality.
Though they are perhaps better prepared than previous lockdowns, restaurants had to act quickly to shift their businesses. Again.
Staffing arrangements had to be made – including layoffs leaving a skeleton crew between the two restaurants – fridges had to be cleaned out and delivery and pickup planned for.
For bars, beer kegs can't sit forever before their hoppy contents grow stale; to address that, Hop House has introduced a special-rate growler program.
The last supper before lockdown, there are only three menu items – nachos, cauliflower "wings," and chicken wings – as they re-stock after the holidays. They're primarily accompaniments to help sell beer: 48 taps are a lot to handle even in normal times.

For more on Hop House, visit here.