Dish: 3 of 'em for the weekend
Reading Time:
2
minutes
Okay, folks. Even before things open up, let's pull back on the reins a bit!

Yes, restaurant dining rooms are opening today, but there are lots of rules 'n' regs and logistics to grapple with and pay attention to.
Be patient with the restaurants as they find their form again and deal with an entirely new and unusual set of circumstances, no matter where you go. Be nice! Be patient!

Perhaps most important is to remain vigilant about wearing your mask, washing your hands and retaining a healthy and robust social/physical distancing.

We CANNOT return to a lockdown situation again. That would hurt us all very, very badly.
Be good!
*****
Sotong bakar, Loloan Lobby Bar
Newly re-opened amid the street-scape dining that has recently been created in Uptown Waterloo, the inimitable Loloan is back — and that's a good thing for all. The sotong bakar is tomato and mint-stuffed grilled squid with shaved greens and bonito flakes.

Shingleesh, Mashawi Charcoal Grill and Shawarma
A chilled appetizer, shingleesh is a "cheese ball" of slow-cooked yogurt seasoned with herbs, salt and pepper, spices like za'atar (a Middle Eastern spice blend that often includes sumac) and red pepper.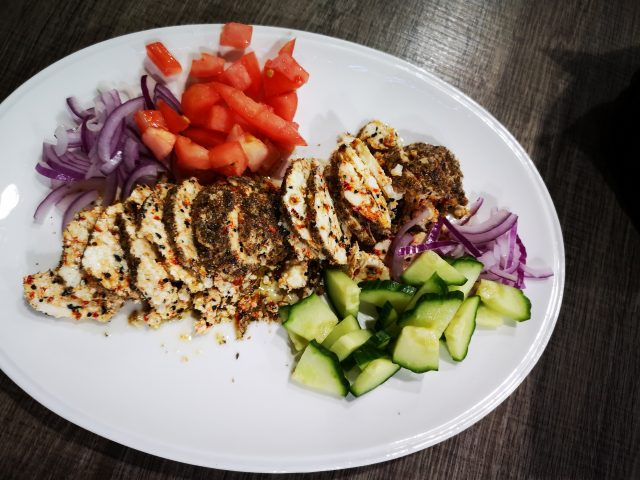 Platter for two, Lancaster Smokehouse
Just a note that the "Lanc Lot Patio" will still be in operation, though restricted dining room operations begin today. Get a shareable platter for two with three meats, two sides and corn bread (that's quite a bit to eat!). Those sides could include tater tots, dilly coleslaw or sweet potato fries.
[Banner image/Lancaster Smokehouse]