Arabella Park Beer Bar burger
Reading Time:
3
minutes
[This article appeared previously in The Kitchener Post]
There are two types of people in the world: those who like McDonald's iconic Big Mac, 50 years old this year, and those who don't like McDonald's iconic Big Mac; there's no in between. Arabella Park Beer Bar navigates that polarity with their special version of the burger, in both single and double format. The result is delicious.
The restaurant and beer bar is located in Kitchener's Belmont Village. The writing, in the form of the suds menu, is literally on the large blue wall at Arabella where beer is the focal point: there must be nearly two dozen taps with a wide range of both local and distant craft breweries represented. However, the food also stakes a legitimate claim to the popularity of the venue.  
Arabella Park is bar service: order food at the counter, sit and they deliver. The food menu, about a dozen or so dishes, is relatively simple and includes beer-pairing suggestions. It changes frequently and currently includes poppadom, Nashville-style hot popcorn chicken and nachos with pork belly and salsa verde. There's even a chicken galantine, unexpected at a beer park.  
 
What's locked in on chef Andrew Thorpe's shareable-dish menu is the burger, which is, incidentally, called "The Burger." Thorpe, a veteran of the local industry, started working in kitchens 16 years ago at Ethel's Lounge. He's been with Ambrosia Pastry Co. and more recently he was sous chef at Public Kitchen and Bar.  
 
"As for the burger, it was on the menu when I came here. I'm just maintaining its legacy of being awesome," Thorpe says. 
The foundation of the burger is high-quality ground chuck from VG Meats, based near Simcoe, Ont. "It's some of the best I've ever seen," says Thorpe. "It has marbling like Wagyu." That much is apparent from the richness of the patty. Or patties, if you get the double. They grind the beef in-house and cook them to just medium-rare, for wicked juiciness.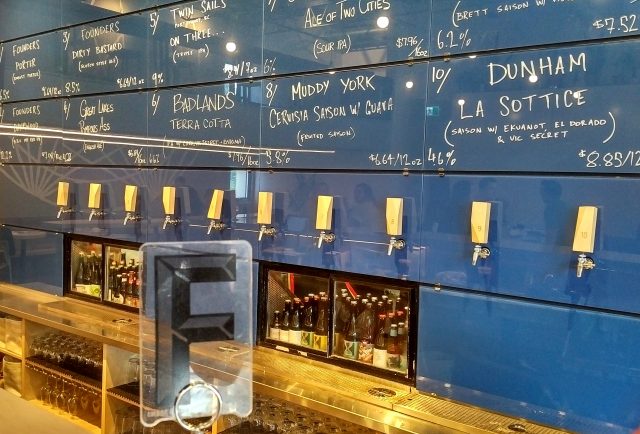 From there, Thorpe says it's just a matter of keeping things simple and in homage to that Mac: bread and butter pickles, cheese (aged Cheddar) and "secret" Big Mac sauce. He won't disclose the ingredients, but there's a nice tangy creaminess to the concoction. "The only thing I've changed," he says, "is to go from onion rings to onion tanglers, shredded, dredged and fried." 
The bun – the item that tries mightily to hold all the drippy goodness together – eschews fancy artisanal bespoke baking. It's a humble Wonder Bread bun, soft and fluffy – and local, likely produced right here in Kitchener at Weston Bakeries on Victoria Street. "Arabella had tried many different burger buns from local bakeries but couldn't find the perfect one to replicate the Big Mac. Wonder Bread did," according to Thorpe.

The freshly made food truck-style fries – Arabella goes through about 500 pounds of potatoes a week – are punch-cut thick, soaked, blanched and then fried. Salt is doused in malt vinegar and then dried before it seasons the Russet potato fries which are crisp with a floury potato interior. A malt mayonnaise is for dipping.

Creativity and experimentation is the name of the game at Arabella, the Big Mac-esque burger included. "We get to play with food. Sometimes the menu name comes first and then we adjust the ingredients to fit the name."
Love it or not, the iconic McDonald's burger is fodder for food fun at Arabella Park in the Belmont Village.