Knife & Pestle open Wednesday-Friday
Reading Time:
3
minutes
Specialists in homestyle Lao, handcrafted sushi and Hawaiian poke, Knife & Pestle is only open the latter part of the week — they are usually sold out, so you need to plan ahead and order your take-away.

For cooks and business partners Kennedy Phounsiri and Mike Saengdala, Knife and Pestle kitchen is something of an archaeological project that, in part, seeks to unearth the hidden treats of Lao cooking and share them with the community.
Present on the local food scene since February, Knife and Pestle is celebrating a few months' birthday as well as a recent move to Wooden Boat Food Company in Kitchener.
A few weeks ago, Knife and Pestle also successfully celebrated Lao New Year, Phounsiri and Saengdala's cultural heritage, with special take-away boxes that sold out quickly.
They were pleased with that fact.

"The response we have been getting has been great," says Phounsiri. "We're highlighting Lao dishes and celebrating the food of our culture."

That food – grilled meats, shrimp on skewers, vegetables, rice – might be billed proudly on their social media as "a taste of Laos." Those tastes are indeed robust and delicious.
The Knife and Pestle name captures the blend of foods they prepare that are part of the Indochinese Peninsula, and beyond southeast Asian geography: a knife for cutting the fish that goes into their sushi and poke dishes; a mortar and pestle traditionally used in the preparation of the foods of Laos, a country of seven million people tucked in between Thailand and Vietnam.
Similarly tucked into the comfortable confines of Thompson Tran's Wooden Boat kitchen, Phounsiri and Saengdala, joined by Saengdala's sister-in-law Brittany Petrie, create a wide range of dishes and a changing menu somewhat familiar to the Viet-Thai-style dishes diners enjoy in Waterloo Region.
I wrote about Lao New Year at Knife & Pestle earlier.
There are differences, they explain, that reveal the character of the food and the people cooking it. "Lao cuisine is a lesser-known food in this region," Phounasiri says. "There are also many Lao cooks working in Thai restaurants, and we want people to recognize that."
Knife and Pestle describe their dishes as umami-rich and not too sweet.
"It's nicely salty and accented with fish sauce," says Saengdala. "The flavours are rich and strong."
Saengdala was born in Laos and arrived in western Canada as a refugee before coming to Waterloo Region when he was 12 years old; he attended Conestoga College's School of Hospitality and Culinary Arts.
At Lao New Year, Knife and Pestle's Lao-style peeng seen steak and tod ka gai fried chicken have ample flavour and contrasting textures, and are cooked perfectly.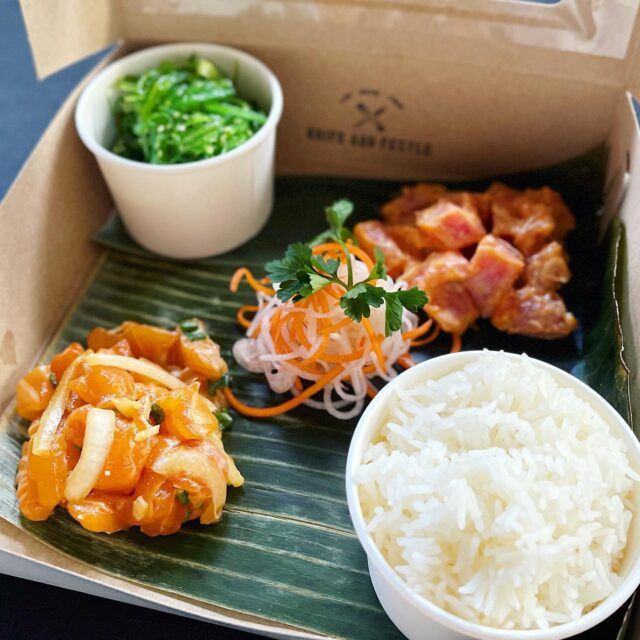 A Lao version of "beef jerky" is robust with a peppery, acidic finish. "We call it seen savanh, Lao heavenly jerky. We also have a minced chicken salad called lap guey, along with grilled shrimp peeng goong and a papaya salad," says Saengdala. The latter has a good heat on the Scoville scale.
A recent series of their take-away boxes include unique crabmeat-fried rice and meatballs with a sweet chili sauce. On another menu, KP crunch roll of crab and salmon is deep fried and topped with spicy mayo and sweet unagi sauce.
Their poke, Phounsiri stresses, stays "true to the flavour of the fish, without a lot of toppings. Classic Hawaiian-style poke is new to the region, we think."
Though it isn't their main focus, their sushi is fresh tasting and made from scratch, including the sauces. Visit their Instagram (@knifeandpestle) to find boxes that include ahi poke, salmon poke, sushi rolls and seaweed salad.

"While we serve poke and sushi, the focus here is on Lao food," Phounsiri says. "We want to give the community a chance to try our food."
It's a good opportunity for us to dig into the dishes of Laos.

Open Wednesday to Friday. For more information about Knife and Pestle, visit knifeandpestle.com.