Friday restaurant picks and events
Reading Time:
2
minutes
Here are a few dishes you may want to check out this weekend, whether you are in New Hamburg, Cambridge or Kitchener.

As well, we've selected a couple of events for you to consider putting into your social and physical distancing calendar.

Have a great weekend!
Local restaurant picks
MeMe's Feta Salad, MeMe's Cafe
MeMe's Cafe has been a popular venue in New Hamburg for nearly two decades. They are currently open for delivery and curbside pickup Wednesday to Friday, 7 a.m. until 2 p.m.

The Feta Salad is Pfenning's organic greens, marinated feta, organic raisins, almonds, sunflower seeds and sesame seeds topped with red peppers.

Eggs Benedict, Blackshop! Restaurant & Wine Bar
There is an amazing patio at the Blackshop, a quiet and calm oasis on busy on Hespeler Road, as well as robust and diligent dedication to a safe and distanced dining experience.

The Blackshop!'s Eggs Benedict, served Sunday between 11 a.m. to 4 p.m., is a classic preparation: toasted English muffin, poached eggs, wilted spinach, peameal bacon, Hollandaise and pan-fried herbed potatoes. There is also a pastry basket included.

Fried chicken, Grand Trunk Saloon
The Saloon specializes in luscious cocktail libations and some of the foods of the U.S. low country, but a dish cooked in dozens of countries is fried chicken — the buttermilk-fried chicken in downtown Kitchener is some of the best around. The 10-piece bucket special on Tuesday is $20 with a drink purchase. Make sure you hit the chicken with some of the Saloon's fabulous hot sauce.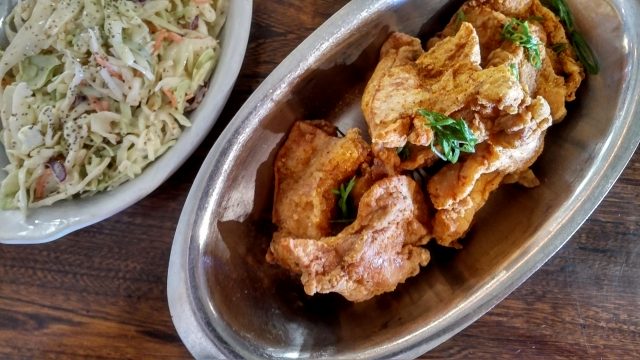 *****
National Chicken Wing Day is July 29
As for some events coming up, chicken wings will have a national profile this coming week. It has been decreed, likely boosted by poultry producers, that Wednesday, July 29, is National Chicken Wing Day.

It's easy to find chicken wings in the area, but one chain, St. Louis Bar & Grill, is having a contest that gives you a chance to eat chicken wings for a year.

So, are you for drumettes or flats?
Looking for a food truck to visit?
If you have a hunger on for a food truck-visit, Schmuck Truck will be at Forest Hill United Church Friday night (July 24) starting at 4:30 p.m. and serving until about 8 p.m.

Check out their Brad Schmuck's amaze-balls arancini, pulled pork sandwiches, and the rather unique lamb and goat cheeseburger.


And … for more information about local food trucks, check in with Explore Waterloo Region for an annotated directory.