Reading Time:
2
minutes

Here are a few dishes you may want to check out this weekend, including a bowl in New Hamburg and a breakfast.

Have a great weekend!
Moroccan Health Bowl, MeMe's Cafe
Meme's veg dishes all have a protein component – in the Moroccan case, it's the chickpea, part of a mini-smorgasbord of veg such as lightly roasted cauliflower, carrots and the very good "pseudo-cereal" quinoa with its nuttiness and texture mingled with organic Thompson raisins, some of which were nearly as large and sweet as a date.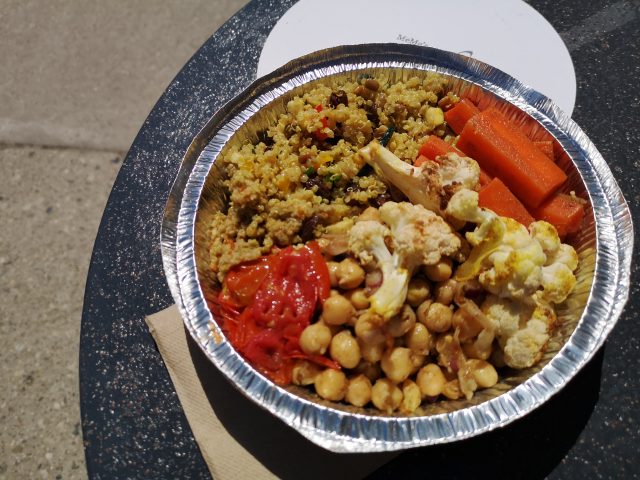 Eggs Benny, Darlise Cafe
Among other breakfast and lunch dishes, Darlise serves several eggs Benny. Chef and co-owner Darryl Howie handles the distinguishing feature of Eggs Benedict with aplomb: Hollandaise, a French "Mother Sauce," holds together not because of a binder such as flour, but because it is an egg-emulsified butter sauce. Eggs Benedict, therefore, is an egg dish with an egg sauce. (See banner photo.)

Fried chicken, Grand Trunk Saloon
The Saloon specializes in luscious cocktail libations and some of the foods of the U.S. low country, but a dish cooked in dozens of countries is fried chicken — the buttermilk-fried chicken in downtown Kitchener is some of the best around. The 10-piece bucket special on Tuesday is $25 (seitan/vegan = $20). Make sure you hit the chicken with some of the Saloon's fabulous hot sauce.