Free slice of pie: celebrate Pi Day!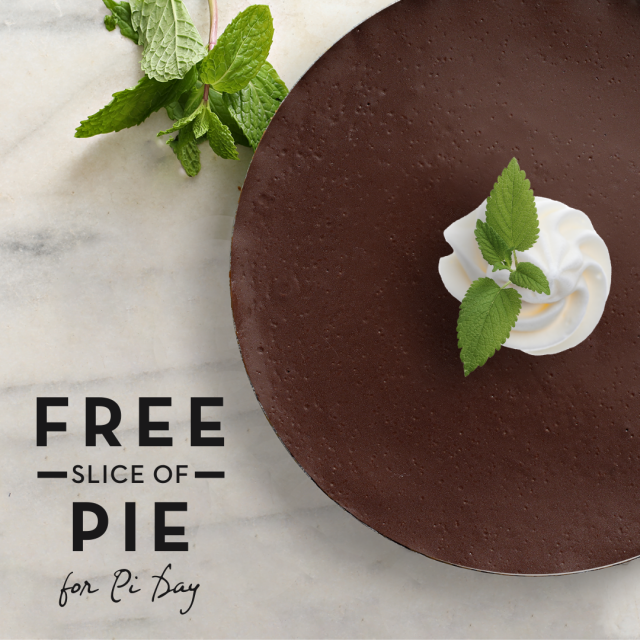 Of this type of pi, I have a very superficial understanding.

The so-called "Pi Day" celebrates the mathematical constant denoted by the symbol π. The symbol's eponymous day, of course, takes place on March 14, the date represented on the calendar by the number 3.14, which are the first three digits of pi.
I'm really only interested in the other "pie." And Proof Kitchen + Lounge will be celebrating Pi Day this year in a unique and delicious way, according to the restaurant.

This year Proof has partnered with the University of Waterloo's Centre for Education in Mathematics and Computing. John Galbraith, along with his team, have provided a special equation and solution that is customized for Proof's Pi Day Contest.
The contest started March 7, but it continues until Saturday, March 14. During this period, Proof will be sharing the equation through their Instagram page. Each day of the contest period, one winner will be selected based on their submission. Contest details can be found on the Proof Instagram page.
"We are excited to be working with our Waterloo Region community which is so STEAM (science, technology, engineering, arts, mathematics) driven," said Proof Kitchen + Lounge general manager Laura Umbrio.

"This contest is a great opportunity to get the community engaged and excited about Pi day. Last year's contest was a great success," Umbrio added. "We are looking forward to the outcome for this year."

But here's where the formula has most interest for me: in addition to the Instagram Contest, Proof will also be providing a free slice of milk chocolate pie with the purchase of one entrée on March 14, 2020.

To make it even tastier, Proof has partnered with Eby Manor Farm who will be supplying the chocolate milk for the special pi day pie.

And if you've ever had Eby Manor chocolate milk, a well-known variable, you know they have the calculus right for great taste.
[Image/Proof Kitchen + Lounge]