Annual Uptown Comfort Food Crawl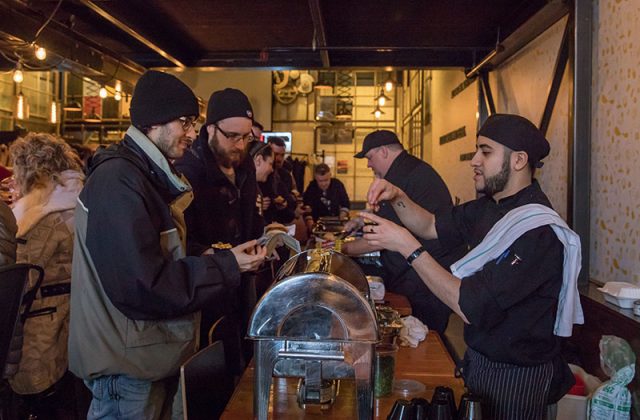 Reading Time:
< 1
minute
Despite the pandemic, it's back by popular demand – albeit slightly modified: the annual Uptown Comfort Food Crawl.

[The banner image pictures one of the venues from pre-Covid Crawl.]
The 2021 Comfort Food Crawl, part of Winterloo, includes culinary options from nine Uptown restaurants, but instead of the traditional sampling tour around Uptown Waterloo, each item will be available to order for delivery or curbside pickup.

Try them all! The Crawl ends February 21.
After trying at least three of the nine tasty grub samples, Comfort Food Crawlers are asked to visit the Uptown Waterloo Business Area (BIA) website, and vote for their top three choices.

Once you've voted, you'll be entered into a draw to win one of three Uptown Dollars prizes – $100, $50 or $25.
"It's a deliciously fun way to support our local, Uptown restaurants," shared Tracy Van Kalsbeek, executive director of the Uptown Waterloo BIA.

The Crawl features …
Score Pizza: Uptown Signature pizza with red sauce, mozzarella, pepperoni, bacon, roasted garlic, sautéed mushrooms, green peppers and a barbecue drizzle
Ethel's Lounge: pulled pork grilled cheese and cup of daily soup
Kentucky Bourbon & BBQ: smoked bacon Mac 'n Cheese
Prohibition Warehouse: grilled cheese and smoked tomato and roasted red pepper soup
Beertown: fish tacos
Proof Kitchen + Lounge: mac 'n' cheese with squeaky local cheese curds with Grana Padano and herbed breadcrumbs
Masala Bay: butter chicken
Just Love Pie: chicken pot pie
Taco Farm: Birria tacos

Vote here!