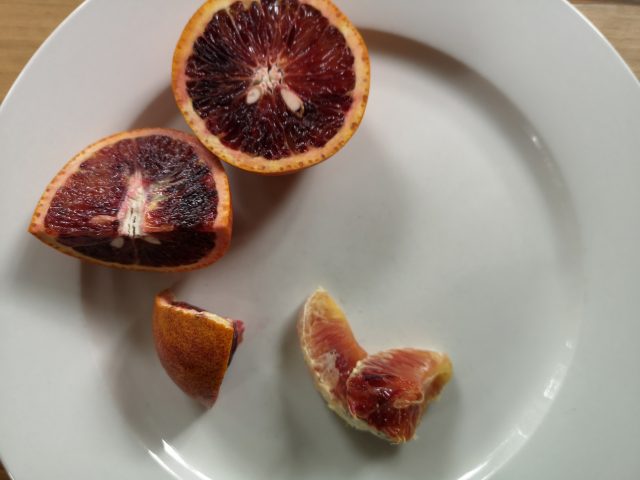 Reading Time:
< 1
minute

A less familiar Mediterranean fruit — and one that has had a certain historical prominence as an export in Sicily — blood oranges are a sweet-tart variety of orange with a dramatic purplish or maroon colouring and often a variegated sort of design.

Categorized as moro sanguinello (with echoes of the word "sanguine"), tarocco or Maltese, blood oranges get their colour, like blueberries, from chemicals called anthocyanins (while regular oranges draw on carotenoids for their pigments). You can often find ones with yellowish hues too.

A Hollandaise-based sauce using blood orange juice and zest is called a Maltaise.

They might have a slight raspberry aroma, and if you look closely at a cut blood orange, the coloration tends to be most prominent at the blossom end. The coloration is, in part, a result of cooler temperatures during fall and winter in the Mediterranean.

The tarocco di Francofronte, in the province of Syracuse, Sicily, has been grown in the town and environs since the Middle Ages and as early at the 9th century. It remains a top producer there.

However, in some places, the cost of picking the oranges has been prohibitive plus imported oranges are sold for less; sadly, the Sicilian blood oranges are left on the trees to rot and fall to the ground, a useless windfall that is victim of economics.

Over the past several years, it has been possible to find blood oranges in many supermarkets and specialty food shops. Give them a try sometime.