Pork bone soup at Korean BBQ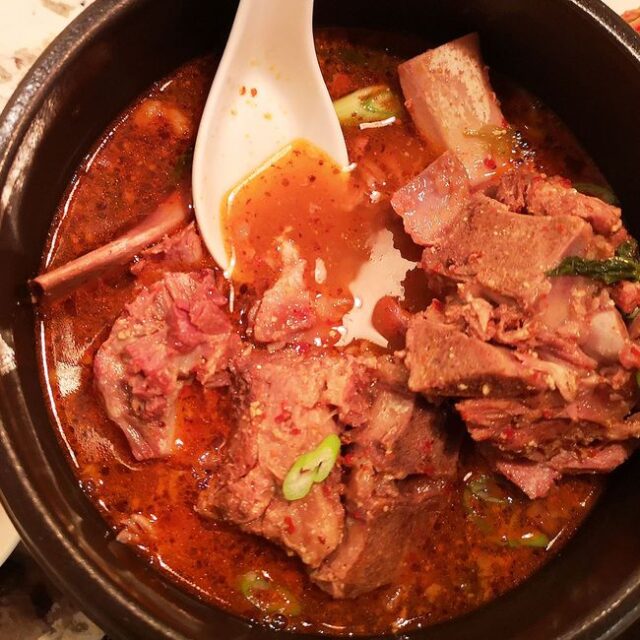 Reading Time:
< 1
minute
It's a down-at-heels east-end corner on King Street at Eby in Kitchener. Parts of the stairs at Hong Kong Plaza, once apparently called Colonnade Plaza, are crumbling and pock marked.
In one corner of the small square there's an abandoned and weather-beaten sandwich sign advertising a student special for teriyaki but without a price — or a restaurant attached to it.
The "ell" architecture of the complex is a hodgepodge of tile, paint, wrought iron, concrete, aluminum and glass across its three storeys that makes it quite distinct and certainly unique. But Ludwig Mies van der Rohe it ain't.
Add to that an eclectic collection of businesses that reach across several sectors: a clothing store or two, a driving school and a hair stylist — and wasn't that second-floor corner business once a watch and clock repair shop that was there as long as I can remember?
There's Bold and Beautiful Boutique — or at least a sign that says that. It also has one unit that has cooked a couple of different cuisines over the years and is currently the second iteration, at least, that has been a Chinese restaurant called — wait for it — "Chinese Restaurant."
Frankly, I love the urban grit of it all as the east end continues to evolve — but best of all is that the quirky plaza has been home to one of my favourite bowls of rice during my time writing about food.
In fact, my last column as a Waterloo Region Record restaurant reviewer years ago was written at, and about, Korean BBQ, the place where I discovered bibimbap, the Korean mixed rice dish.

For more, visit Waterloo Chronicle.