Wellington "Party Favours Mix Pack"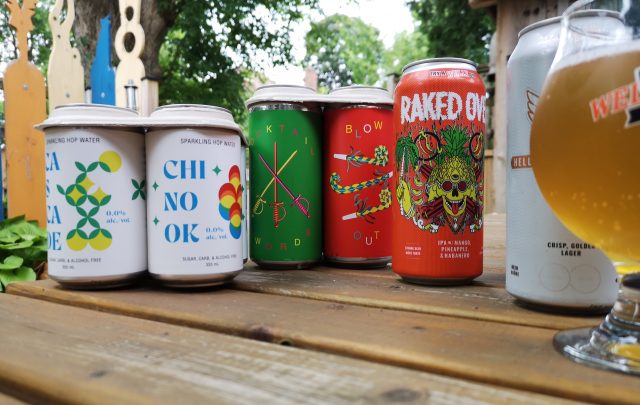 Reading Time:
2
minutes
It's fully summertime and the living is easy — and sometimes a little bit hot too. Among the best ways to cool off is with some icy, refreshing brews (never drink and drive): and that will feel extra good with the upcoming first-of-the-summer long weekend!
Throughout the year, Wellington Brewery releases special beers and "mix packs" that boast unique and inventive flavours and well-balanced crafted beer.
Here's what you'll find in the most recent mix pack of "party favours" packed with party flavours:
— Ring Toss Masala Peach Sour: real peaches blend with masala spice; traditionally, a blend that includes ingredients such as coriander, cardamom and mace (but could include as many as 10 spices).

— Blowout Cherry Vanilla Sour: cherries are one of the summer's most desired fruits and always a treat whether fresh or in a sour.

— Cocktail Swords Margarita Gose: some citrus with coriander in "gose," which is a German-origin (Goslar, Germany) malted wheat beer that isn't too hoppy, but has a touch of sour and usually a relatively low alcohol-by-volume.

— Pinwheel Pineapple Gose: a touch more coriander that balances against some tropical flavours along with some tang and sour.
— Raked Over IPA (feat. Mango, Pineapple and Habanero): Added spiciness and heat makes this beer one of Wellington's most requested. The brewery refers to it as a "spicy juice bomb."
Recently, I've been enjoying Wellington's sparkling hop water: Ontario-grown hops (Cascade and Chinook); it's quite refreshing with a mild-beer flavour and no alcohol, no carbs and no calories. Just a refreshing and pleasant flavour and bubbles. Drink them straight up or use them to create cocktails.
Check out the LCBO for these beers — or even better yet, pay a visit to the Wellington Brewery' s "Beer Garden" just outside Guelph and a few minutes from Kitchener. It's open daily 11 a.m. to 7 p.m.