"Toronto" Prewett: WWI vet and agronomist
Reading Time:
2
minutes
I spent some time in the academic world where I did some research on a little-known Canadian writer Frank Prewett. I think of him always on Remembrance Day.

And in doing so, I think of all veterans who have served us. Thank you to all of them.
Prewett is a minor figure but an interesting one. He was born in Kenilworth, Ontario, on Highway #6 ("the Owen Sound road") just northwest of Arthur. He went to the University of Toronto and enlisted with the Eaton Motor Machine Gun Brigade in 1915 and saw action in France.
He injured his back when he was blown from his horse by a mortar shell. He suffered crippling pain from the injury and was diagnosed "neurasthenic" and underwent treatment at Craiglockhart War Hospital in Edinburgh, Scotland (dubbed "Dottyville"). It was there he met the writer Siegfried Sassoon.
He also did work with radar development during WWII.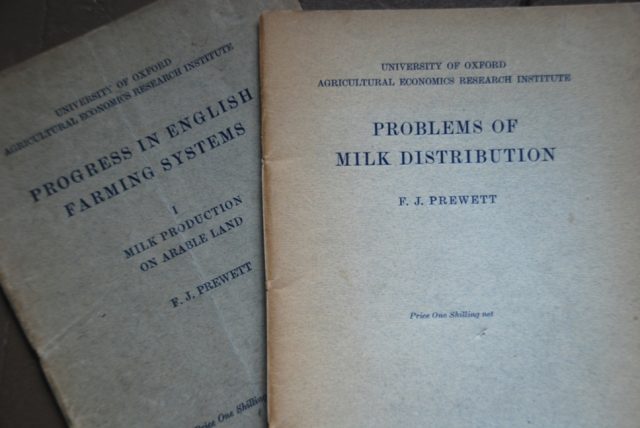 Prewett struggled much of his life — as much with his war experience as with being a writer. He attended Oxford University after the war and dabbled in friendships and relationships with folks like Robert Graves, Sassoon and others.
The food connection is the work he did with the newly formed Oxford Agricultural Economics Research Institute researching and writing about things agrarian, as shown above: such rivetting treatises as "Milk Production on Arable Land."
Prewett died a lonely, cold and troubled death in Inverness, Scotland, in 1962, where he raised cacti and tortoises and scratched out a meagre living doing a bit of farming.
One of his poems, "Card Game," was written in 1917 after the battle of the Somme.
Hearing the whine and crash
We hastened out
And found a few poor men
Lying about.
I put my hand in the breast
Of the first met.
His heart thumped, stopped, and I drew
My hand out wet.
Another, he seemed a boy,
Rolled in the mud
Screaming, "my legs, my legs,"
And he poured out his blood.
We bandaged the rest
And went in,
And started again at our cards
Where we had been.