The Scoville thrill at Taste the 4th Sense
Reading Time:
2
minutes
At Taste the 4th Sense in St. Jacobs, Gerry Mischuk sells a wide range of hot sauces and has some fun with human physiology while doing it.
"I'll take a big, burly, tattooed biker to the mildest sauces, and he'll wince and say it's way too hot for him. Then this little wisp of a women, barely five-feet tall, will sample one of our hottest sauces and she'll say, "You got anything hotter?' We have fun with our customers," says Mischuk.
With his wife Lydia Taylor, Mischuk started selling oils, vinegars and salad dressings at the Fergus Market, but success demanded that they move to the larger St. Jacobs Market in 2000.
"We were looking to set up a retail store but wanted additional products. Everything pointed to hot sauces," he says.
Today, oils, dips and sauces with the sting of serrano and ghost peppers are a scorching-hot food trend, and Mischuk carries hundreds of labels, including 40 "Taste"-branded products that they make and bottle in the 2,000-square-foot store.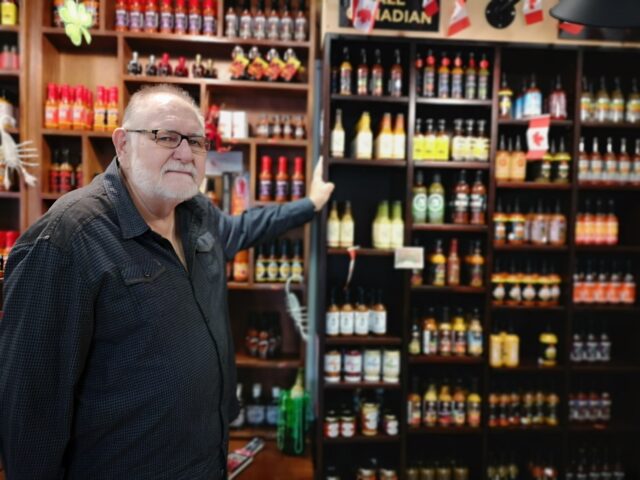 While he moved into the store in September 2019 (and hasn't yet had a formal grand opening because of COVID-19), the pandemic was a positive game-changer:
American importation of hot sauces "got screwed up," Mischuk says, so he looked domestically. "I made a decision to bring in more local and Canadian products. That turned out to be a boon."
For more about Taste the 4th Sense and their "Hot Sauce Summit" this summer, visit Waterloo Chronicle.