JK Farm Harvest Dinner: Kennedy/Boehmer
Reading Time:
4
minutes

For the first time in a very long time, I visited a large restaurant that, while it wasn't yet at full capacity of course, hummed and buzzed with guests anticipating a bona fide food event that included multiple courses with wine pairings.

The venue was Wildcraft Grill + Long Bar in Waterloo; the occasion was a harvest dinner featuring two, I can safely say, culinary icons.

The first was Jamie Kennedy, CM, Order of Canada no less, joined by culinary icon in his own right Paul Boehmer, founder of Bhima's Warung and Loloan Lobby Bar in Waterloo. Their unique and individual cooking styles were readily apparent and delicious.

As a harvest dinner, the night saw the tandem work of the two cooks along with Todd Clarmo and Michael Hodgson and the rest of the crew at Wildcraft.

The menu had contributions from both cooks over the three dinner courses and dessert along with the very interesting — and for some, challenging — "snacks on arrival."

Beverages were by Hubb's Creek, Stanners, Closson Chase and Kinsip, all from PEC.
PEC is also where Kennedy is based.

A pioneer who has been in the forefront of the farm-to-table movement, Kennedy has promoted Canadian cuisine and advocated on behalf of local, sustainable and organic food and food producers. He makes damned good fries too.

His 100-acre, JK Farm in Prince Edward County, likely provided inspiration for the harvest dinner, but the first course was Boehmer's crispy fried anchovies, "bugs and bolts," and Oktoberfest beer and tempeh nuts.

Boehmer, for his part, has done more than his fair share to boost the food profile of the region. He brings to food and cooking a wide range of ingredients and techniques and a certain carefree and, I might say, "swashbuckling" demeanour.

But that is not to say he isn't damned serious about his staff, his customers and the health and prosperity of the local restaurant scene. His stance and resolve during the pandemic was as staunch as his execution when cooking. I think a lot of people appreciated that. I know I did.
The "bugs and bolts" dish was pure Bhimas: crisp-fried lemongrass, lime leaf, galangal, garlic and shallots that were topped with pomelo. They were joined by crispy crickets with chili powder, toasted sticky rice powder and homemade sriracha.

"The ingredients are for wrapping in a fresh betel leaf," said Boehmer. "The Oktoberfest nuts were from Picard's, and coated and tossed with fried tempeh from Henry's."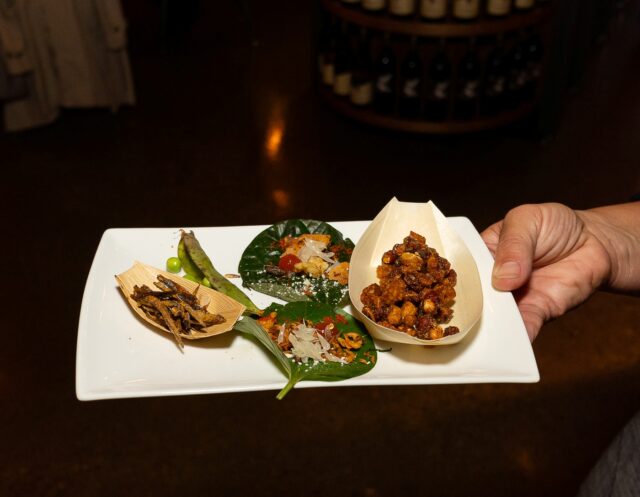 The other part of the dish was some delicious dried, reconstituted and then crisp-fried anchovies. Paired with it was a Kinsip (Bloomfield, Prince Edward County) "Autumn Harvest" cocktail with "Dark Waters Rum," County Cassis blackcurrant-brandy liqueur and some orange and ginger which provided a balance. With it, there was no problem with eating crickets — they're nice and crunchy and have some protein to boot.

A green tomato and "Hillier soubise," a rich and velvety smooth onion purée — obviously from Prince Edward County — was the base for a beautifully crisp piece of pickerel for a fish course (sourced from Lake Ontario I'm sure) with the slight acidity of the green tomato.

A confit of pork belly was settled amidst a lively and bright corn succotash with a slightly tart cider mignonette, the protein sharing both an interior and porky softness along with the requisite beautifully caramelized edges — truly "meat candy."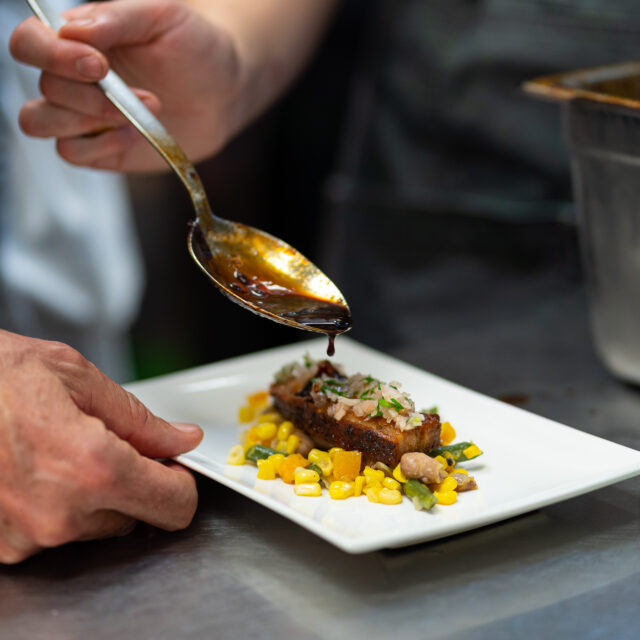 However, I've left the first of the dinner courses for last because it was simply superb: a blend of textures and balanced sweet, sour, bitter and salty. "Warm local endives" were scattered amidst a crispy crouton base and a little pool of Prince Edward County buffalo Mozzarella. Among many dishes I've had over the past little while, this was surely one of the best.
Service was energized and attentive (I think you can tell when front-of-house staff are enjoying a good-sized dining room bubbling with engaged guests), and the multiple courses came out of the kitchen in a reasonable amount of time given the number of patrons.

Boehmer, too, enjoyed the experience; he's a seasoned cook and restaurateur who has led the Region's culinary scene for a couple of decades.

"I love working with other teams and doing other chef's recipes," he said, reflecting on the night. "Kennedy was a pleasure to work with and his simple, subtle cuisine refreshing."

He's exactly right about that.

Let's hope we can continue to see these events returning to the region, and as well the collabortions — especially now in light of restaurant restrictions being lifted soon.

Thank goodness.

Thanks to photographer @theonlyAndyWright for sharing his work — all the photographers here — with me.