Food Fight! | eMERGE Guelph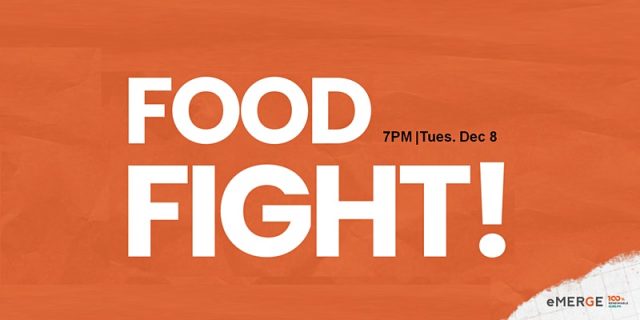 Reading Time:
< 1
minute
Resolved: My Dish Tastes Way Better Than Yours.

If you're in Guelph, here's a fun event that will likely be of interest — and it's virtual too.

eMERGE Guelph is an environmental organization that fights climate change by working on policy change and encouraging actions that people can take themselves, according to the organization.

Most of their work is energy related, but they've recently added a way to promote a more climate-friendly diet: this "Food Fight" event fits the bill and the public is invited to sign in and participate.

You register for the Tuesday, December 8 event and are encouraged (it's not mandatory) to order a take-out meal from the below Food Fight restaurants ahead of time and develop your thoughts on it as a comparison during the "debate." (Please order before December 8, if you choose to do so.)

Of course, the dishes involved are vegan.

Then all you have to do is sign in to the Zoom link at 7 p.m. on Tuesday evening and hear the cook-competitors debate the merits of their dish.

You get to judge the winner of the eMERGE Food Fight as the three cooks fight to resolve: "My dish tastes way better than yours!"

The cooks participating are:
Nevada Jeansonne of Cadence (mac and cheese with broccoli): 519-265-8225
Sydney Coles of The Cornerstone (tempeh Reuben): 519-827-0145
Dewey of Sip Club (hot and sour soup): 519-265-1964
It sounds like a cool thing! Pleas get more details here.