"Diverse and Delicious:" Pupuseria Latinos
Reading Time:
3
minutes

Update:
With the help of Waterloo Region Arts Fund and the amazing Heffner Studio at KPL, Diverse and Delicious has launched. It's a ten-part podcast-broadcast airing on CKWR-98.5 Community Radio.
Following the radio broadcast of each episode on CKWR, you will be able to listen to the show here.

This week's episode features Andres and Blanca of Pupuseria Latinos and their popular "campero breakfast."

Listen to the episode — including a chat with Carmine Caccioppoli of Vincenzo's Waterloo — and then go and support these businesses.

Buen provecho!

******

On November 1, 2022, a report was released by Statistics Canada that Waterloo Region received more than 27,000 immigrants between 2016 and 2021, twice as many than the previous five years.
One of the areas being affected — and of course positively affected — by this increase is in the food industry. And that, of course, includes restaurants and grocery stores.
On the cusp of this report, CKWR-FM 98.5 Community Radio is proud to present a new 10-part series titled Diverse and Delicious.
I was happy to join veteran broadcasters Daiene Vernile and Paul Francescutti for this project; Vernile and Francescutti have worked together previously to create some excellent broadcasting, and I was honoured to be asked to join.
Please tune in to this 10-part radio broadcast-podcast series as Daiene, Paul and I visit some of the region's kitchens and grocery outlets to explore the changing cuisine and diversity available to the region,s residents.
We selected 10 venues and several local retailers, but there could be so many more! More and more in Waterloo Region, we are able to eat around the world as new and scrumptious food offerings are set on the table before us.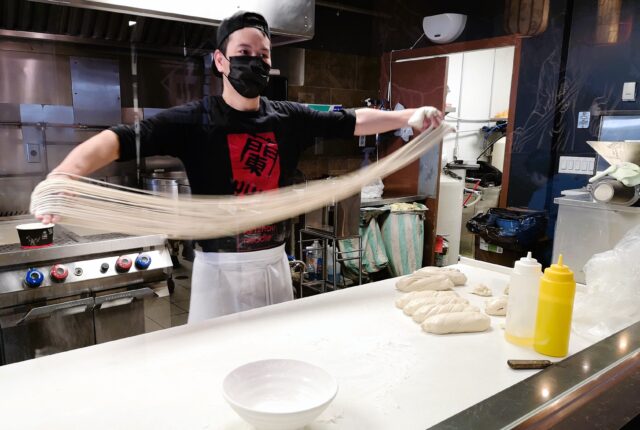 During the series, you will hear the personal stories of these chefs and restaurateurs and learn a bit about the recipes that very often mean something very personal for them.

All of that will take you from Guyana, El Salvador, Jamaica and Nigeria to Canada's First Nations, Ghana, Mumbai and Lanzhou in northwest China — and more. You will hear some familiar voices and learn from many new ones too.
Diverse and Delicious couldn't have happened without the support, in part, of the Region of Waterloo Arts Fund.

So, sit back and get a napkin ready as we present the Diverse and Delicious dishes that you can discover in Waterloo Region and the chefs who prepare them.