7 places to visit: Stratford food tour
Reading Time:
5
minutes

Some chill and snow in winter remains, but it's not enough to quash the enjoyment of a weekend jaunt to Stratford — and some delicious dishes. Just wait: soon it will be patio season in the Festival City.

Pazzo Pizzeria
At the bustling corner of Ontario and Downie streets, the lower level of the elegant but welcoming Cafe Bouffon is a casual pizzeria, Pazzo, with a host of delicious dishes.
The thin-crust pies, a dozen or so, are delicious, including a very enjoyable Venetian. Packed with flavour from pancetta, goat cheese, mushrooms, and the always invigorating arugula, these pies aren't the type to fill you up unnecessarily, so tuck into some mussels too.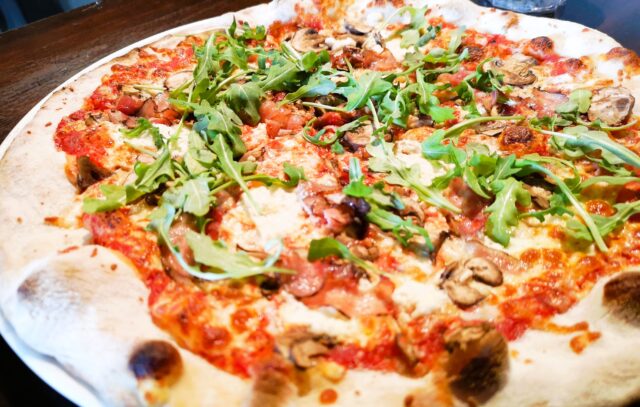 The tasty molluscs from PEI are fresh-tasting, plump and nicely seasoned with a classic preparation of white wine, cream, basil pesto, tomato, onion and garlic. Superlative with a pint of Stratford-brewed lager.
Balzac's Coffee Roasters
For an early-morning snack, grab some pastries and a good cup of coffee at Balzac's but not too much because you'll want to be hungry for lunch.

The coffee is excellent; the pastries and breakfast sandwiches do well in a supporting role. The interior decor gives the cafe a faintly Parisian bistro feel — you can easily imagine it as a haunt of French novelist Honoré de Balzac who said "coffee sets the blood in motion." He ought to know: he purportedly drank 50 cups a day.

Bluebird Restaurant
The new venture from Aaron and Bronwyn Linley is the former space of the popular Down the Street earlier this fall. It's been an return eagerly anticipated.
Aaron Linley calls it a bistronomy menu that is at once playful and fun (he once did a riff on Alpha-ghetti) with added attention to classic bistro dishes.

The narrow space, perhaps decorated in a bistro whimsy, gives a view of the Avon at back and Ontario Street at front.
Linley's salmon tartare blends a classic bistro approach with an injection of crunchy Bombay snacks and Peruvian "tiger's milk."

Also enjoyed: bone marrow lettuce wrap, a superb confit duck wings with Peruvian tamarind sauce, Argentine shrimp of exquisite texture in garlic and a unique, and not too sweet, coconut dessert (with Waterloo Region's Four All Ice Cream) inspired by the Linleys' trip to Brazil.
To read more about Bluebird, please visit Waterloo Chronicle for my column.

Bowl Bar
I love bowls. That probably started with an introduction to the Korean mixed rice bowl, bibimbap, years ago: a base of rice is covered with an assortment of veg, beef and a sunnyside-up fried egg. A few small ramekins of "banchan" side dishes accompany. It's delicious.

There has been a bump in bowl interest over the last few years — I'm particularly fond of poke, for instance — and Keystone Hospitality has their interpretation of a healthy, delicious bowl, plus smoothies, a couple of sandwiches and desserts at Bowl Bar.

Put together your base and toppings and take a seat; they call you back to the counter and away you go: dig in by mixing it up or eating the ingredients singly.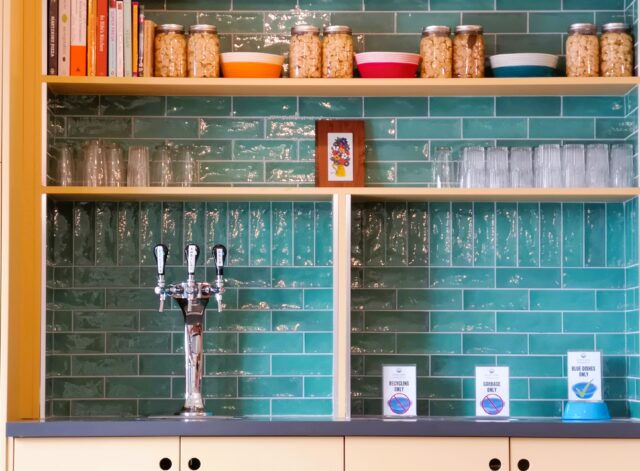 Tokyo Zen is Napa cabbage, carrots, peppers, cucumber, avocado, scallions, edamame, pickled chilies and sesame seeds that are set off by yuzu-ginger dressing.

Inside is sleek and chic and urban cool — and of particular note is a self-serve water station: sparkling, ambient and cold. That's cool too.

Bentley's Bar, Inn & Restaurant
Sit at the bar and be surrounded by a busy, dynamic tavern atmosphere. I simply love the spot of which, owner Breen Bentley has said, "Everyone is welcome."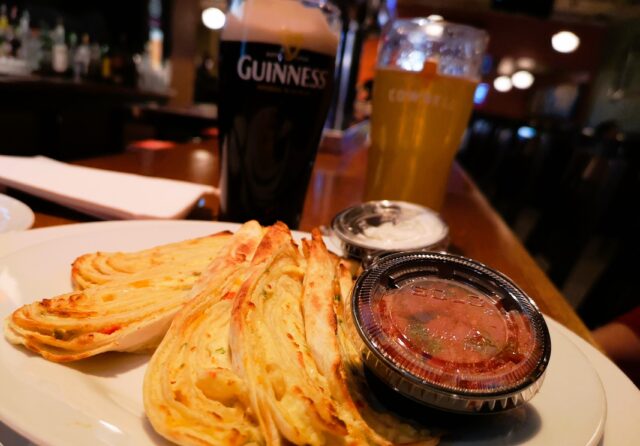 Grab a pint or two and some antojitos and watch the tapestry of patrons come and go.

The Bruce Hotel
Chef Hani Firin, formerly of The Elora Mill, leads a kitchen brigade that sends out a wonderful tasting menu of five or six courses in a spacious dining room the centrepiece of which is an immense window that lets in a beautiful light and adds an aura to the room.

The personalized tasting menu is sealed with a wax-seal stamp, a charming touch. The amuse is a flavourful and delicate consommé with a beautiful and intricate tuile "leaf' adding texture.
Six courses included plums with salted cream — a very inventive and refreshing course — a perfectly cooked lobster raviolo, hen with a superbly rich and flavourful parsnip puree, duck with kohlrabi, a lemongrass jelly with pineapple compote and a chocolate marquise with citrus marmalade.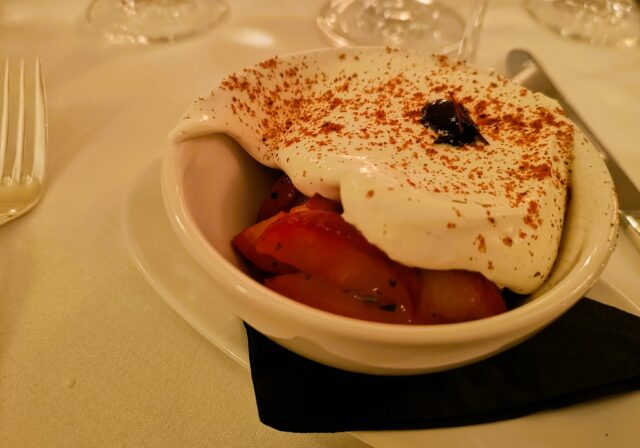 A unique plum and salted cream course (Photo/andrewcoppolino.com).
The Bruce service is friendly and relaxed but very professional and knowledgeable. Flights of wine with the tasting menu are well considered and give some focus to Ontario grapes and production.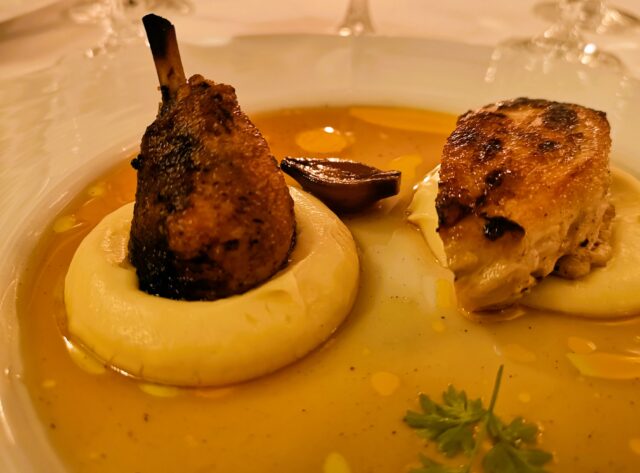 Relatively new to the Bruce kitchen, Firin is settling in nicely and has a deft touch with complex dishes that keeps them accessible and delicious. Plates are nicely presented, and the food is elegant without being fussy.

Features of Stratford
Everyone loves a big breakfast. The original Features on Ontario at Waterloo, now Elizabeth restaurant, has moved to another corner location on Downie (but enter at Ontario and Erie): whatever the street, Features has been slinging bacon and eggs and other platters for breakfast since 1998.

Open and bright in a way the original venue perhaps was not, Sunday morning is busy with virtually all the tables occupied and just about as many staff working to serve them — there must be six cooks at work at the stoves.
They crank out solid, hearty, down-home breakfasts of overflowing platters and generous helpings.

There are several other downtown Stratford venues that warrant a return visit, from Rockwell and Elizabeth to Mercer Hall and Lovage. Those I have scheduled for very soon.