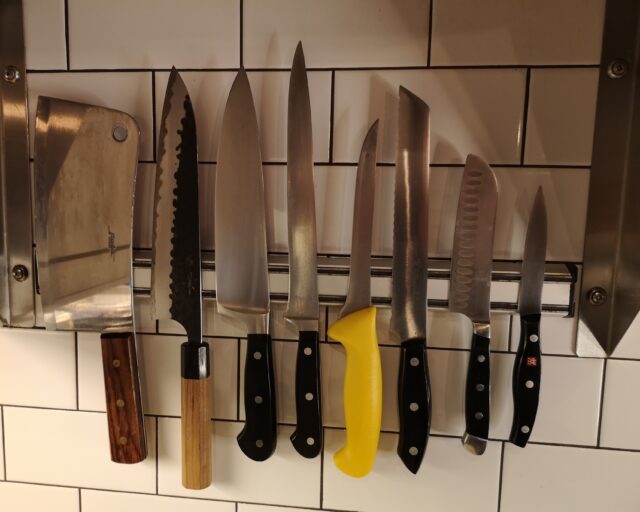 Reading Time:
2
minutes

Appliances, tools and gadgets can help people who love to cook — and those who don't.
If you have a home cook on your holiday shopping list, here are a few gift suggestions, both high tech and old school.
As for where to find these culinary presents, don't forget about the shops in your neighbourhood — many of which have become more sophisticated in the products they offer and have boosted their lines of home-cooking supplies. That includes hardware stores, specialty food shops as well as bulk food and cooking supply stores.
At Kitchener's Relish Cooking Studio, there is a wide range of products for the home cook, including knives and cookware. Co-owner Donna-Marie Pye suggests checking out their line of Scanpan Haptiq and Techniq cookware, which retails between $185-$350.
"They've moved from the restaurant industry to serving households and the non-stick cookware is a little more expensive, but has been amazingly popular," Pye says.
Kitchener-based chef and baker Emily Schlieper-Thorpe is torn between suggesting a classic countertop appliance and a relatively new trend: the sous vide.
"It's a tie between a stand mixer and a sous vide. I started doing sous vide turkey breasts last year and can't go back to a regular oven. But the most used thing in my kitchen is the stand mixer," says Schlieper-Thorpe.
For cooks that love devices, there's plenty of equipment with embedded technology and connectivity. The internet-of-things play a big role in culinary and cooking convenience, but these gadgets come with big pricetags.
The best way to cook a steak to your preferred temperature is with a thermometer; the Meater Smart Thermometer adds further accuracy. Connect it to your phone to get notifications when the food is done; it calculates residual cooking time, so that 54C steak you desire doesn't climb a few degrees higher.
The tea drinker on your list can activate their Smarter iKettle through Wi-Fi and voice activation, so they don't have to head downstairs to put it on the boil while working in the home office.

For more of this story, visit CBC-KW.