Reading Time:
3
minutes
The Poké Box 
#3-255 King Street North 
Waterloo, Ontario 
www.thepokebox.ca 
 
Perhaps a dish along the same lines as carpaccio, tartare, ceviche and sashimi, the traditional Hawaiian poké – sliced and diced raw fish – started picking up momentum in North American about five or six years ago, approximately the same time that The Poké Box owner Jeremy Lai graduated from the University of Waterloo in 2012.  
 
Of the Hawaiian dish, Lai has a very simple explanation for why he opened an outlet in downtown Toronto a few years ago and recently at the corner of University Avenue and King Street in Waterloo within the compact and busy restaurant block near Wilfrid Laurier University.  
 
"It's just really, really good food. When we came up with the concept, there was none of this style of restaurant around. We saw it as like sushi, but we could incorporate a lot more vegetables and grains and things that allow you to eat it on a daily basis," Lai says.  
 
He's right. Vegetarian, pescatarian, carnivore, digging into a bowl of poké is something of a rare opportunity in Waterloo Region; there are lots of bowls out there but few in the poké category. The Poké Box gives you good potential to eat healthily and heartily: what you can select or create from their menu are essentially large, delicious salads that are fun and interesting. 
The store is sparsely decorated with seating for about a dozen or so people, a cooler storing a selection of drinks, a cold line of ingredients so you can watch staff (The Poké Box employs local students) prepare you poké bowl and a point of sale. It's an efficient ordering system, and they can get you in and out quickly. 
 
There are a half-dozen or so selections called "Fresh Poké Signatures" including Lava Blaze with salmon, tamari, spicy aioli and a hot glaze and something called Ruffled Up – smoked duck and tempura shrimp with a tamari glaze. All the bowls are in the $12-$13 range.  
 
Lai says Big Umami is the most popular poké bowl: it's filling and delicious with salmon, ahi tuna, cabbage, avocado and green onion. As do other bowls, Big Umami has shoyu, a foundational soy sauce rich and dark brown and salty. Furikake is a flakey seasoning that adds umami richness. Tempura bits add texture. 
 
Having had both, I can't decide whether Big Umami is the poké dish you don't want to skip, or the "Aahhhloha" bowl; it rivals the Big Umami and contains ahi tuna, mango, seaweed salad and pea shoots. It also features tamago, a layered and compacted omelet that offers flavour and texture.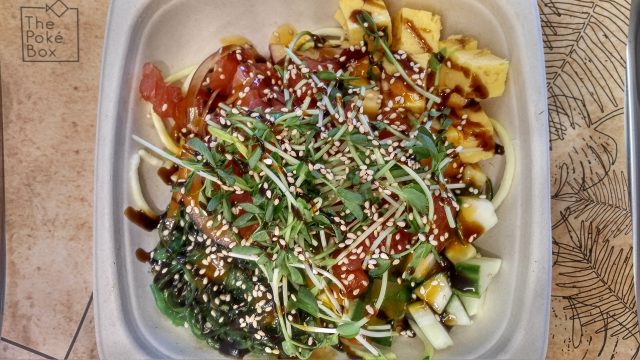 There are two ways of eating here: a standard bowl, or in a fashion that borrows from a Latin American dish. "We call them burrito, but they're really gigantic sushi rolls," Lai says. They're wrapped in seaweed and by the time they're packed with sushi rice, vegetables and a protein or two, they become the circumference of what he calls "a pretty hefty burrito."
You can build your own burrito in seven steps on the menu with dozens of ingredients. You choose a size, a base of rice or zucchini and work your way through either cooked or uncooked proteins, veg, toppings, sauces and garnishes. Whatever selection you pick, poké is keyed into the healthier aspects of quick-service eating and unique diets; if you're eating keto, you can tailor a poké bowl to your carbohydrate count. Staff at their Toronto store experiment with flavours – like smoked duck – and test out what works and what doesn't as a special of the week before they make it to the menu. "Essentially, the Waterloo menu is a selection of the most popular specials," Lai says, adding that there's a difference in what the two restaurants are looking for.

"In Toronto's financial district-store, it's about quick service. Here, it's catering to students who want interesting flavours and customizability," Lai says. "I think that's a big thing at the Waterloo store."