Jerk goat by "Big Jerk" Kevin Thomas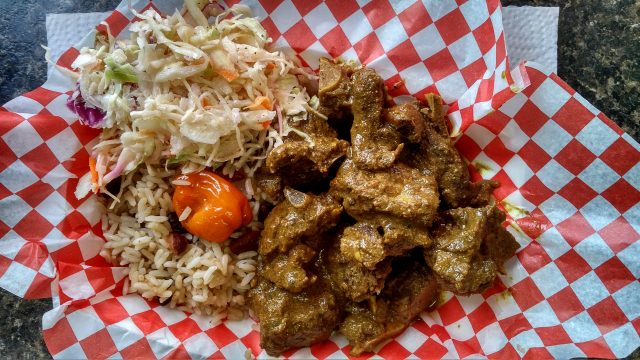 Reading Time:
3
minutes
[Previously published]
Fans of Jamaican cooking know very well Rainbow Caribbean Cuisine in downtown Kitchener, the popular restaurant the late Jim Nicholas opened with his wife Lucinda in 1995 and operated until they sold the entire business several years ago.
The experience gave their son Kevin Thomas the chance to carve out his own niche cooking the foods of his heritage with Big Jerk.

Thomas's Big Jerk food truck has made regular rounds in Waterloo Region the last several years, and you may have even been eating the Jamaican patties he prepares without knowing it.

Big Jerk pretty much has the local patty market cornered: he makes over 3,000 of the meat-stuffed pastries each week—sold by various food operations in southwestern Ontario—out of his Dumart Place facility in Kitchener.

The 2,500 sq.-ft. commercial kitchen can provide catering for up to 500 people, but it's also a takeaway counter open Thursday 11 a.m. – 4 p.m., and Friday to Saturday 12 a.m. to 6 p.m.

"There's a smokehouse attached to the building that allows us to smoke meats, something we couldn't do when our family owned Rainbow. We can do jerk the traditional way using sarsaparilla and pimento wood," Thomas says.

The menu includes jerk chicken, pork and ribs as well as curry chicken and curry oxtail. There are also chicken, beef, tofu and chick pea roti wraps. Prices range from around $2 for a patty to under $20 for full meals.
It's the goat, however, that will get you. A blend of Ontario goat shoulder and rump, there's a bit of bone to deal with but it's well worth it. "Growing up in Jamaica, we didn't eat a lot of sirloin. It was goat," Thomas says.
He seasons the rich meat with jerk ingredients including scallions, thyme, sarsaparilla, pimento, butter, ginger, black pepper and Scotch Bonnet pepper and marinades it for three days because goat can be tough and slightly gamey.
"We actually cook it twice," Thomas says. "It's stewed slowly with the liquids to make a gravy-like sauce and then goes in the fridge. A day or two later, it gets a second cook. You can really notice the difference."
There's no gaminess in the finished product, however. Exceedingly tender and moist, the curry goat is served with rice and "peas" (pinto, black-eyed or pigeon beans, also known as gungas) and coleslaw. The rice is cooked with coconut milk.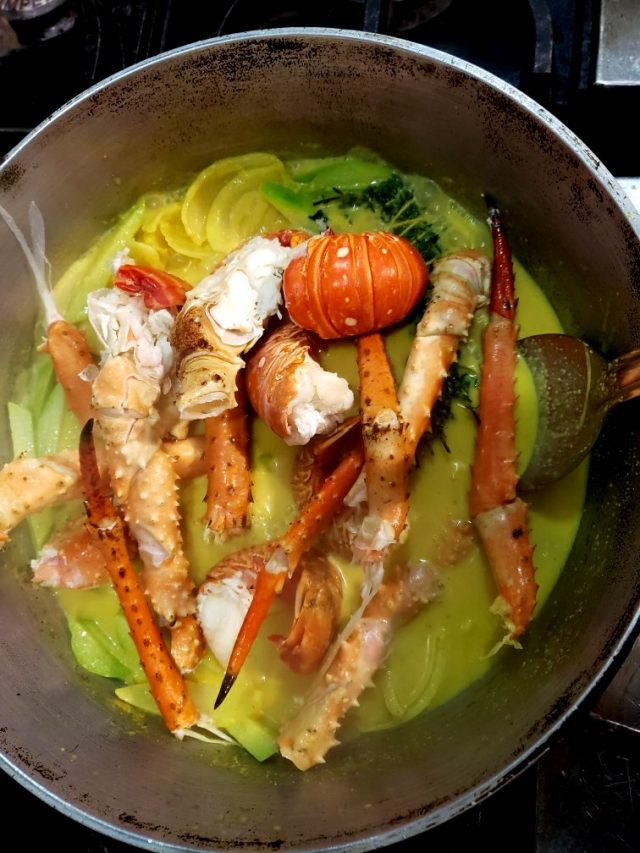 But remember that food has a context that makes it a meaningful meal. Goat in Jamaican culture is freighted with a wider significance that transcends a mere family recipe. "If there's a big community event, goat is on the menu and someone is specially selected to cook it. It's an honour who gets to cook it for the community," says Thomas.
That makes it a delicious honour for us to eat too—and gain an appreciation of the culture.
*****
Big Jerk
#3-70 Dumart Place (and on the road!)
Kitchener, ON N2K 3C7
(519) 590-JERK (5375)
info@bigjerk.menu