Sap tap at Snyder Heritage Farms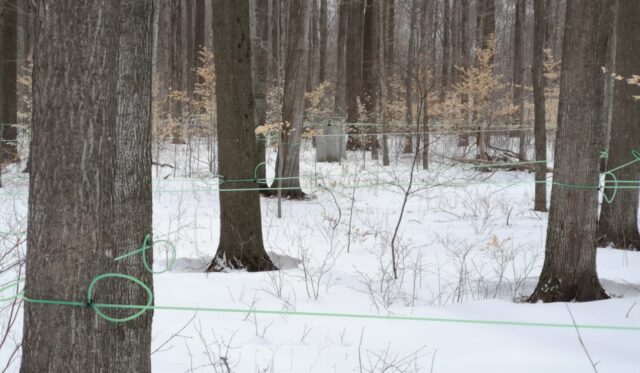 Reading Time:
< 1
minute

Kevin Snyder's 65-acre wood lot, one of a couple from which he draws sap for maple syrup, looks like an immense game of "Cat's Cradle," the trunks of huge trees linked like giant fingers looped with string.
In this case, the "string" is a network of food-grade 5/16" green plastic gravity lines carrying maple sap via a vacuum system to a large stainless-steel collection tank that Snyder scrubs, cleans and polishes before each season.

From there, roughly 10,000 litres of sap will be hauled by tractor and tank to the sugar house 900 metres away where it will be turned into thick and luscious maple syrup – some of the best in the province.
It's a process that Snyder, a fifth-generation farmer operating Snyder Heritage Farms in Bloomingdale and president of the Waterloo-Wellington local of the Ontario Maple Syrup Producers Association, has been involved in since he was a kid.
"I grew up with maple syrup production," Snyder says. "I can't remember a spring when I didn't do this."

For more about Snyder and Waterloo Region maple syrup, please visit Explore Waterloo Region.