Harmony Lunch chicken sammie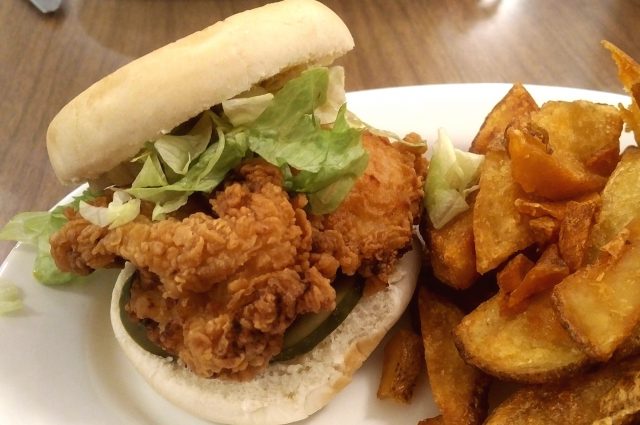 Reading Time:
3
minutes
A culinary institution since 1930, Harmony Lunch  in Uptown Waterloo has seen a rejuvenation and refurbishment since Fat Sparrow Group took it over a few years ago.  
 
Yet, importantly, it's only a partial rejuvenation and refurbishment: chef and restaurateur Nick Benninger has left a good amount of the diner's original infrastructure and accouterment—and a lot of its ambiance—in place. That's essential when you think of the historical foodways of our communities.
 
The original Harry Marks-diner orientation, that of the founding owner, is solidified with the restaurant's weekly features, including mac and cheese which give a nod to the "blue plate," a classic inexpensive daily diner special that was popular for a few decades beginning in the 1920s and was often served on a sectioned plate that was blue or decorated with blue.  
Otherwise, at roughly three dozen items (including kids' menu) the Harmony menu 86 years on is likely larger, but the heart of it is the pork burger and hillock of caramelized onions that are cooked front-and-centre on the flat-top stage; the combo is still there and still very popular.

However, it is another sandwich that we focus on here: Benninger has had a fairly lengthy love affair with fried chicken.
His version of the sandwich ($7) created for Nick and Nat's Uptown 21 Food and Drink a few years ago perhaps single-handedly changed at least some of the fabric of the local food scene by introducing it for the restaurant's "Brown Bag" pickup lunch project. It's a concept that has caught on in other restaurants.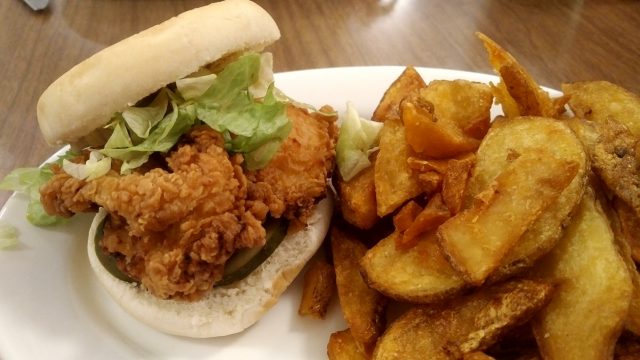 "The sandwich at the Harmony was inspired by our infamous brown bag fried chicken sammies, but I wanted it to be more like a fast food version here and less what I would call chefy," Benninger says. 
 
What the latter comment means, adds Benninger, is simplification and food remembrance. Instead of a (fancy) farmer's roll, the Harmony's fried chicken sammie is served on a steamed and toasted Wonder Bread-type bun. Benninger has an appreciation for the soft, fluffy bun, representing, no doubt, a preference and nostalgic nod to past burgers eaten. 
 
Rather than a veggie slaw, again something itself relatively simple, the burger is topped with pickles and iceberg lettuce, which give the crispness of the chicken an added cool crunch. 
Sauces added are the duel combination of mayonnaise and brown mustard. "Both are made in-house," says Benninger. "But neither is fancy."
At the heart of the sandwich is boneless, skinless chicken thigh. "We give it a simple brining and a flour dredge," he adds. "The difference is though that it's cooked twice for ultimate juice and crunch." For an additional buck, you can have your chicken dunked in one of The Harmony's weekly feature sauces such as maple-chili or sweet barbecue.

The truest value in the sammie is two-fold: you get to gobble a crunchy chicken sandwich that's delicious, but you also get a taste of an 86-year-old classic diner that has iconic status as part of the foodways of Waterloo Region.

*****
Harmony Lunch
90 King Street North
Waterloo, ON N2J 2X4
(519) 886-4721
harmonylunch.ca