Stratford's AO Pasta: revisited
Reading Time:
4
minutes
AO Pasta has moved from Erie Street in downtown Stratford to Wellington Street: it's a good move giving the restaurant a bit more space and a place looking into the city's Market Place hub that's amidst a bevy of other excellent restaurants.

I wrote about them roughly a year ago, focussed on how they've tried to change the narrative of what restaurant work is (see original article below, if interested).

I've found meals at AO Pasta, a venue specializing in simple but highly executed Italian dishes, very good; the new space is virtually identical to the original restaurant, just a bit larger. The food has not suffered a bit from the move or the pandemic shutdown.

Kris Schlotzhauer and his kitchen put together a tuna conserva that bursts with fresh, simple flavours of fennel, black olive and orange drizzled with olive oil. It's a simple but gorgeous as it captures the essence of Italian cooking.
I tried a meaty gnocchi with a deep, rich ragu and a stellar trecce braided pasta that, like the tuna dish, sang the songs of summer with a bit a slightly charred zucchini, some corn and refreshing cream sauce. Both dishes were delicious.

Inside the restaurant, the patio being full, there are good procedures in place for safety and a lot of space between tables for physical distancing. The vibe is still enjoyable.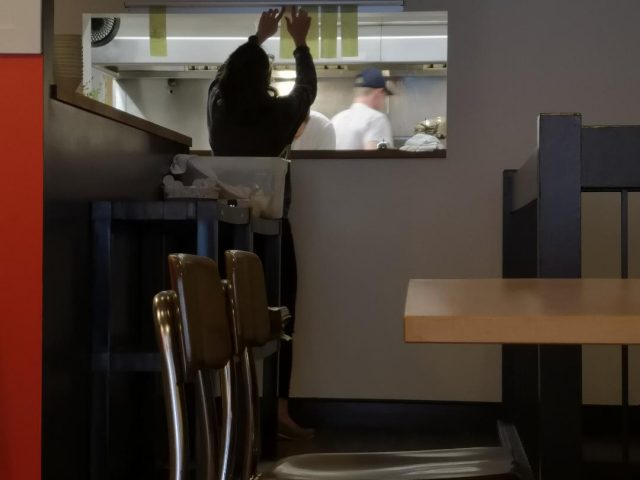 Obviously, restaurants want to be busier inside — you could watch the good numbers of take-away being picked up — but this is the current reality.

If you want to take a short drive for some very good pastas and Italian dishes, AO Pasta is your destination.
*****
[Previously published]
Stratford-born Kris Schlotzhauer opened AO Pasta on Erie Street in downtown Stratford in June, 2018, with the intent of re-vectoring the concept of a restaurant and professional kitchen in order, really, to make it more humanly possible to work there.
Long, long hours, tip culture, expensive ingredients (if you want good ones) and customers looking for impossibly cheap food have made the business difficult — to say the least.
"By day five, everyone is hurting. You've put in 50 hours and you're being asked to work another day."
— Schlotzhauer
He worked in Calgary for about six years (with school and apprenticeship at SAIT) and in Toronto for four. The conditions — the realities — of those environments forged his current vision of how he wants to work. Or at least try.
His first taste of the industry was in Stratford, certainly one of Canada's hottest food landscapes today.
"I grew up here and my first job was at the Old English Parlour when I was 13. I worked my way around town, and I enjoyed it," he says.
In Calgary, he helped open Charcut; that opened some doors for him when he moved to Toronto where he worked at Enoteca Sociale until 2016. "I started as a line cook and worked my way up to chef."
His wife Suzy, now AO pastry chef, was pregnant then (they had met at Charcut), and they decided it was time to get out of Toronto.
The fact of the long hours and conditions remained, however.
Restaurants demand long days of prep and cooking. "In Toronto, we're talking day rates of $100 a day up to $140. Those are long days of 13 to 15 hour shifts. "By day five, everyone is hurting," Schlotzhauer says. "You've put in 50 hours and you're being asked to work another day."
He says he wanted to change that, in any small way that he could, with AO Pasta.
Some research showed him that models of a four-day week could work. "You can't avoid the long days," he says, in order to get prep done and service behind you. "But four days of 11 hours is doable. If we can be very productive in the time we are here, it's better for everyone."
Schlotzhauer's employees get three days off before they head back to the restaurant. AO Pasta has a salaried chef de cuisine who works four days and the rest of the staff does about 40 hours a week. "We're small, but I don't have anyone pulling those crazy long shifts. Other than myself," he says with a laugh.
It's not unusual to see Schlotzhauer himself, and other cooks, running food to the tables.
AO Pasta is a small restaurant (20 seats) with a small menu — still, staff issues are like they are in any small business: it's hard to find the right people and keep them. "There's a cook shortage everywhere," Schlotzhauer says.
Otherwise, the restaurant and the staff are moving forward and having success growing the business. Schlotzhauer says it's a process of fine tuning and adjusting the model.
"I think we've had a good start, but we still have a lot of work to do. We get a lot of regulars and that's great. But there are still many people who don't know we're here. We get missed by a lot of people."