TWH Social: new tapas brunch
Reading Time:
3
minutes
This Saturday, after you've visited the Kitchener Market for its 150th birthday, start a late breakfast with a sip of mimosa — Prosecco and apple cider from local producer Wellesley: it's delicious and an entirely pleasant way to start a relaxing weekend.
TWH Social Bar & Bistro in the lovely Walper Hotel — an historic building that I just love — has just released a new breakfast menu that features a number of "tapas" selections. It's an interesting idea, and one TWH chef Grant Holdbrook is excited about.
"We've been brainstorming for a while," Holdbrook says. "We wanted to offer an aspect of the menu so you can come in, grab a coffee and a small plate of something good to eat, and be on your way. So, there's two concepts. The large plate or the tapas."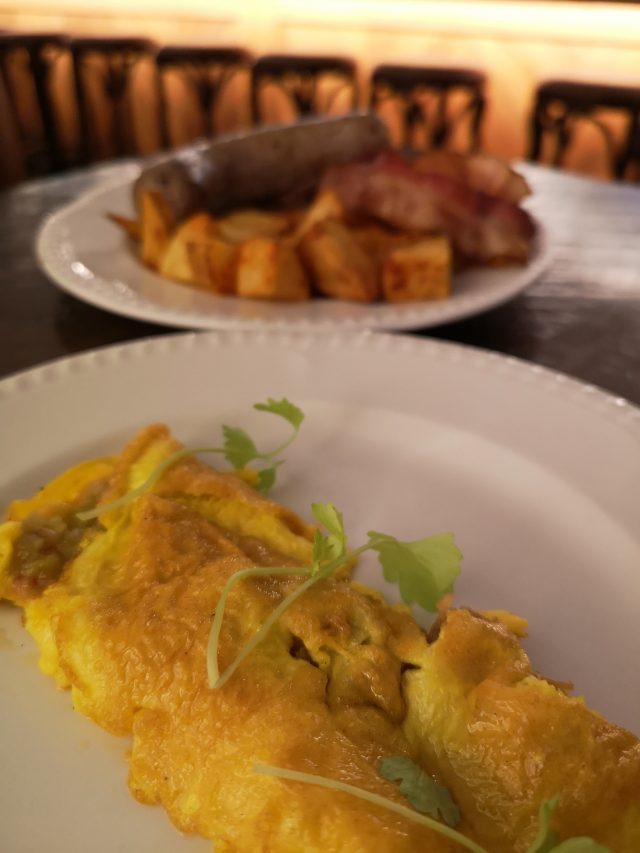 That makes a lot of sense.

Holdbrook calls it a way to "free-wheel" on the menu with a few different choices, including seven tapas selections (all $7). To name several, there's a Benedict with a croissant, bacon and Hollandaise; lemon ricotta pancakes; and a brioche bread pudding. The three large plates ($13-1$15) are two eggs any style; a Benedict on crosissant; and an avocado toast with sourdough, poached egg and Parmigiano-Reggiano aioli.

The kitchen makes their bacon and sausage in-house: my recommendation there is to order the plate of sides and experience them both along with fried potatoes. There's also a good Americano to be had, in part because they use Smile Tiger coffee.
"The goal we want with this menu is for people to come in and have a relaxing experience," Holdbrook adds.
The menu started a couple of weeks ago and on the tapas side also includes shakshouka, a ceramic dish of a tomato sauce with a fried egg and a chunk of fried bread. "The inspiration was that my wife has an Arabic background, and shakshouka is a classic Mediterranean and North African dish. We did it two years ago for brunch and thought it would be perfect for this menu," Holdbrook says.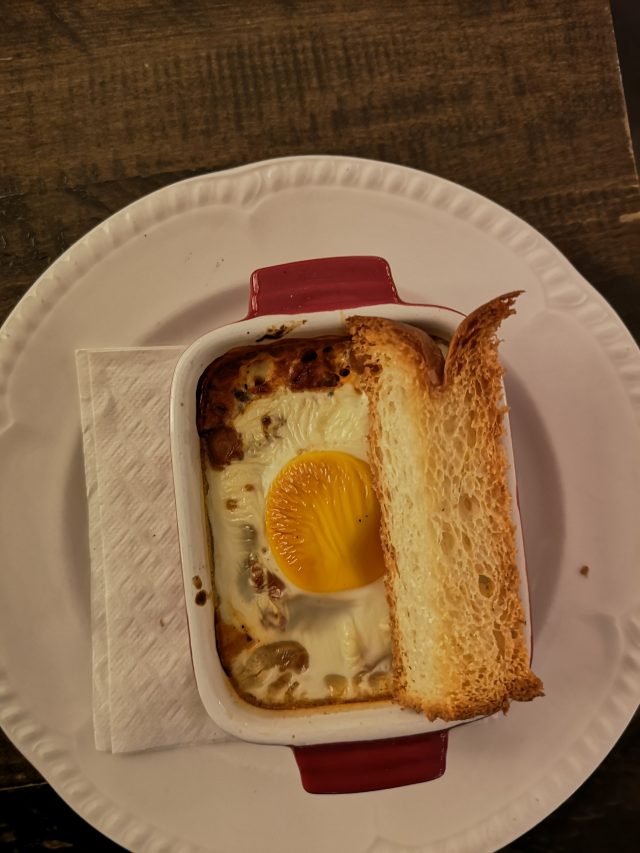 Patatas bravas is the kitchen's Spanish spin on home fries. Blanched potatoes are deep-fried so you get a soft interior and the frazzled, crispy edges that make properly fried potatoes so delicious. "We add some chimichurri-like garnish over a crema made from a crème fraîche, and we give it a good dose of herbs, lemon and lime," Holdbrook says.

His lobster omelette takes its inspiration from his time in the kitchen at the renowned Langdon Hall. "I learned the dish there. It's brown butter-poached lobster with a sort of confit leek and confit shallot purée. We wanted to do a nice omelette for guests." And — the omelette is not just a flopped-over pan of scrambled eggs, which, seen too often, is a travesty of omelette technique.

"It's inspired by a French omelette," Holdbrook says. "It's an item we are most excited about and will probably keep on the menu for some time yet."

The lobster in the omelette is just an ideal way to start a fall weekend. Tapas brunch is served Saturday and Sunday, 8 a.m. to 2 p.m.