Reading Time:
3
minutes
Kara's Market Café
1217 Lobsinger Line
Waterloo, ON N2J 4G8
(519) 206-0184
https://karasfood.com/our-kafe

[Previously published] The relatively small area in and around St. Jacobs Market, near the merging of King and Weber streets north and Lobsinger Line, can be a very busy one on a Saturday mid-morning. It's quite a little food hub that has grown up in the vicinity.
Into that calculation, toss the eclectic mix of roughly two dozen wide-ranging food vendors that pop up a few times a week at the Market, the popular diner Jack's Family Restaurant, the inimitable Crazy Canuck, as well as producers and smaller food stores that are Martin's Family Fruit Farm and The Poultry Place – and they are all within a minute's drive of each other.

To which we must add Kara's Market Café, operated by Gerald Kara, formerly of Kara's Smart Foods when it was on Bruce Street at the Expressway in Kitchener. The store was a haven for people looking for the amazing blend that fruit and vegetable expert Kara's sourced locally and the far-flung corners of the globe.
Kara's the café version on Lobsinger Line is the charming and casual re-imagining of the business and a venerable, barn-like building by Gerald Kara the man: it has his energy too.
Sit in the dining room (pre-Covid-19, it seats about 25 but is not a full-service venue) and you'll likely hear Kara greet a customer with his signature "hail-fellow well-met" gregarious nature. Soon after, I saw the customer he was chatting with so volubly leave with three locally sourced butternut squashes in hand: that's Kara and that's the type of conviviality that characterizes the casual café.
The food is just as refreshing. There are fresh juices that were on the roster at his former location, along with home-made soups and a central display stocked with fresh local produce, when in season. Kara says the grab-and-go foods and lunches are gaining popularity.
Other dishes include sandwiches, quesadillas, BLTs and wraps, and salads. They also bake bread, muffins and cookies and have a smoothie bar.
To order, head to blackboard – Kara loves blackboards – at the back of the store and order breakfast; sit and staff delivers.
Try the pressed avocado BLT ($6.99). It's a buttery croissant that envelops some local organic bacon out of Wallenstein, a slathering of mayo, Romaine and local tomatoes.
The ingredient that sets it all off is what is referred to as their home-made "Karamole," another generous slathering of which brings to the sandwich the richness and that good fattiness that can only be offered by the avocado, that most luscious of fruits that takes the guise of a vegetable.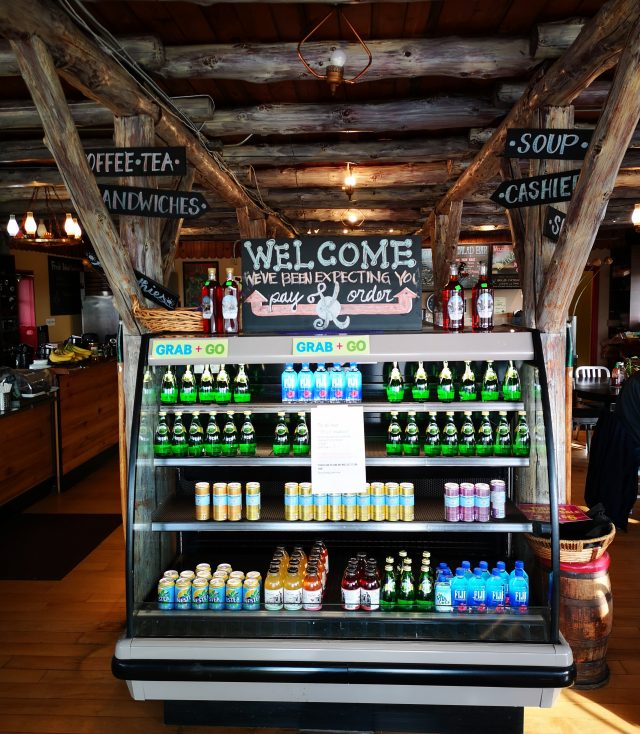 A large thin, crepe-like omelette ($7.99) is cooked on the flat-top and holds cheese, grilled onions, and a nicely grilled organic sausage. Ask for some mushrooms if you want. "It's a different omelette that's holding all the ingredients," Kara says.
And, actually, it is truer to the omelette technique than the simple fold-over that seems to be the quick-and-easy method that short order cooks turn out.
Accompanying both dishes are unique fried potatoes: local spuds are parboiled, thickly shredded, grilled and seasoned with kosher salt. "They're almost like a roesti," says Kara. Indeed, they have satisfying combined soft and crisp textures.

There is, of course, one other signature at Kara's: you will still find the fresh orange juice that was a hallmark at Kara's Smart Foods. "We hope to introduce other juices in January," says Kara adding that there's fun to be had in good, simple dishes served to customers looking for local foods – and some personality.
"We have a good kitchen and good coffees, and we're trying to incorporate good ingredients, especially whenever local is possible," Kara says. "We like to entertain people."

Kara's Market Café is open Monday to Saturday for breakfast and lunch beginning at 7 a.m.