Sandwiches for lunch: Elevenses Cafe
Reading Time:
3
minutes
There are times when simplicity dictates. When all you want is a quick, wholesome bite that isn't fussy and complicated to eat. Sometimes you just want a simple sandwich to munch on but one that's maybe a bit more than you would take the time to make at home.
For that, there's Elevenses, a small cafe and take-away shop in downtown Kitchener's Market Square; it's become a popular destination for folks who like to pop in and grab a sandwich and a coffee during lunch break.

While co-owner Michelle Luelo has overseen the business's growth, it has maintained its simplicity and the home-style fare that comes from her own family background.

"I grew up in my grandpa's garden and learned about food at my grandma's arm," says Luelo, who owns the cafe with husband Mike.

The original Elevenses landed on Scott Street between King and Duke streets at the end of 2016 and moved shop and four staff to upstairs at Market Square this past May.

The name Elevenses is British idiom for a coffee and a snack taken at 11 a.m. It's a perfectly quaint moniker – one where form matches function.

They prepare sandwiches, wraps, soups, salads, breakfast bowls, sweets and baked goods, locally roasted coffee and espresso-based drinks and other beverages, including a growing line-up of tea. There are also unique Italian sodas, and they do catering as well.
"The food is just really simple," Luelo says. "We want to feed people and connect with them. The best way to make them comfortable is with honest food. That's what I grew up with."

Come hungry because the sandwiches, either the tuna salad or the egg salad, are generous and filling. "We throw in a fork," she says. "There's always too much filling."
The popularity of the sandwich contributes to the kitchen going through a lot of eggs, Luelo says. "We are always have hard-boiled eggs on the go."
She also admits it has special meaning for her. "My gran was one of the ladies at the Legion and her church who would do the sandwiches for teas, funerals, open houses and Legion bar lunches. I remember the counters lined with sandwiches in progress. It was the only time we ever had egg salad."
Both the tuna and egg salad sandwiches at Elevenses have classic ingredients that gran used: the tuna is laden with tomato, red onion and lettuce; the egg salad has the crunch and vibrant freshness of cucumbers and spring greens on a hearty, thick bread.
"When I grew older, I came to understand that the food prepared in those kitchens was meant to comfort more than nourish. I always think that's a big ask for a simple egg sandwich, but it's always the one that does it the best," Luelo says.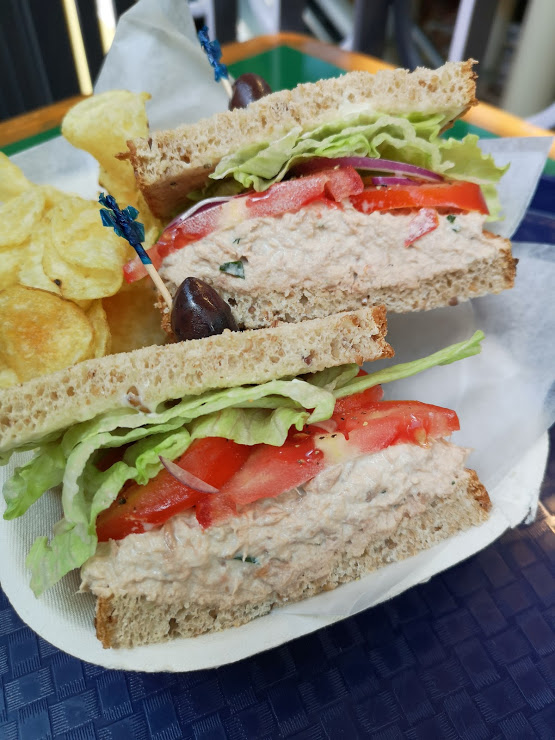 She's right. Food, especially what we each in our own families call comfort food, might be nourishing but it's also always about memory. Luelo would agree.

It's something I'm laughing at a little bit now when I think about the lunch the ladies put on for gran's funeral reception," she says.
"They pulled out all the stops with the cream cheese rolls and sockeye sandwiches. I'm pretty sure they were afraid to disappoint Betty."
Elevenses is open Monday to Friday, 7 a.m. to 5 p.m.
*****
Elevenses
Market Square
25 Frederick Street
Kitchener, ON  N2H 6M8
(519) 579-7661
elevensescafe.com