Two more sleeps till K-W Oktoberfest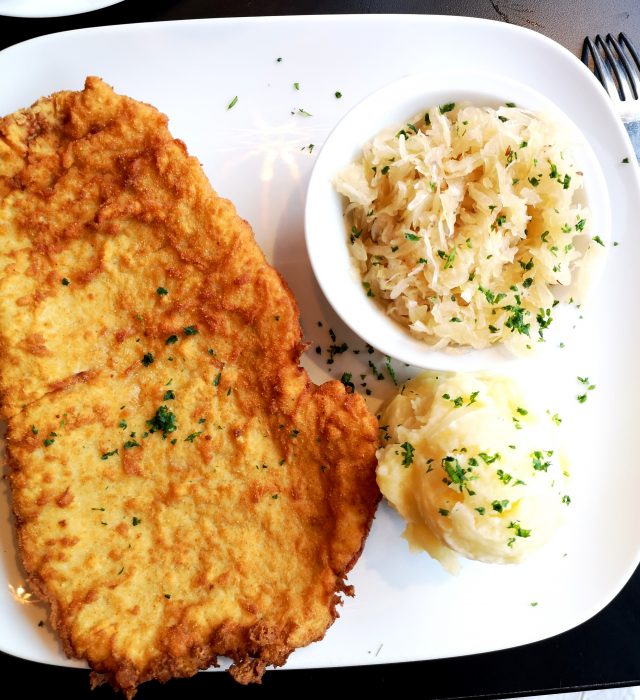 Reading Time:
2
minutes
The cool month of October, and K-W Oktoberfest, bring the annual feting of our German heritage in Waterloo Region, but traditional and hearty Oktoberfest food is year-round in this former city of Berlin. Let's not forget that bit of deliciousness.
At this season, being in the sudsy throes is an annual rite in which the beer flows frenetically and freely — but responsibly, please!

German food holds its own with meaty abandon in the form of wiener schnitzel, pig tails, beef roulade, sauerbraten, weisswurst, schweinshaxe and cabbage rolls all year round.
Schnitzel and schweinshaxe
Ein, swei, drei: there's no doubt lots of schnitzel, thanks in part to the several German clubs located here. For Oktoberfest, there are nearly 20 festhallen (and too many to mention here), but there are a few key German clubs in Kitchener.
The Concordia Club is an Oktoberfest anchor whose main building and tent will hold about 3,000 sets of cock-eyed bird-dancing lederhosen and cleavaged dirndls. The food keeps them energized, including tons of schnitzel churned out under the big top that might feature sesame seeds added to the breading.
The Transylvania Club serves creamy mashed potatoes and crispy schnitzel, while the Alpine Club has traditional cuisine along with folk singing, Schuhplattlers and Alpine Club Apple Strudel.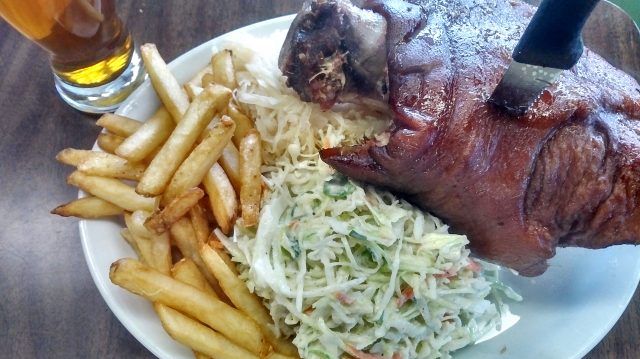 The Schwaben Club, like the other German clubs, offers dancing, cabbage rolls, schnitzel, strudel, and other traditional foods in its role as a German-club mainstay.
More than the classic German clubs
Add to the German clubs several other restaurants preparing Germanic fare and you can ask "Ein bier, bitte" just about everywhere.
Two Goblets is a German-style restaurant that has been around since the mid-1980s and now has a Romanian quality (one of my favourites was once the "chorba de burta" tripe soup) now located on Queen Street.
The Two Goblets kitchen fills a platter as well as any, from veg and cabbage soup to red cabbage and potato salad along with apple sauces, sauerkraut and spaetzel. A large selection of schnitzel might come with egg and caviar.
Slightly outside the central core of downtown is the Metro Restaurant, year-round choice for schnitzel any time of the year.
They serve a large schnitzel (that can include sauerkraut on top) with a slightly tighter breading than at Two Goblets but one that is crisp and mildly flavoured. You can have fries, but go for the ice cream scoops of buttered mashed potatoes and the red cabbage too.

An you really must head out to The Old Heidelberg Restaurant and Tavern for a big ol' smoked pork hock (made by Stemmler's Meats right near by) with some tangy 'kraut and a glass of beer.
What's left to say but "Zicke-Zacke-Zicke-Zacke Hoi Hoi Hoi!"?
Actually, what's left is to say check out the "Flavours of Oktoberfest Food Tours" in downtown Kitchener: https://www.oktoberfest.ca/Events/Flavours_of_Kitchener_Walking_Tour