Mustard dinner: Caplansky at Uptown 21
Reading Time:
3
minutes
Zane Caplansky, a Toronto-based chef and celebrity cook you may have seen on various Food Network cooking shows, including alongside Guy Fieri among others, is teaming up with three local cooks and food experts for a special event on October 2.

Several years ago, I visited Caplansky's Delicatessen on College Street, Toronto, a couple of times. It was great, and I loved everything about it.

I remember when I was a kid, my dad, who grew up a downtown Toronto kid himself, taught me about delis like Shopsy's, for instance. He also took us to the CNE where he introduced me to a knish.

It was decades later that I had a knish only for the second time — at Caplansky's Deli. It set in motion fond memories of our Ex visit.

Virtual mustard
The brick-and-mortar Caplansky's Delicatessens are no more, but the name and Zane's deli products are going virtual (and I hope viral) as an online store on the Shopify platform: you'll soon be able to visit it at caplanskys.com. (Shopify, of course, has a Waterloo office in Uptown Waterloo.)
"We love being a neighbourhood deli," Caplansky says. "Shopify's platform allows us to be a local brand in every neighbourhood in Canada. They make it simple for us to connect directly with people interested in our products and stories."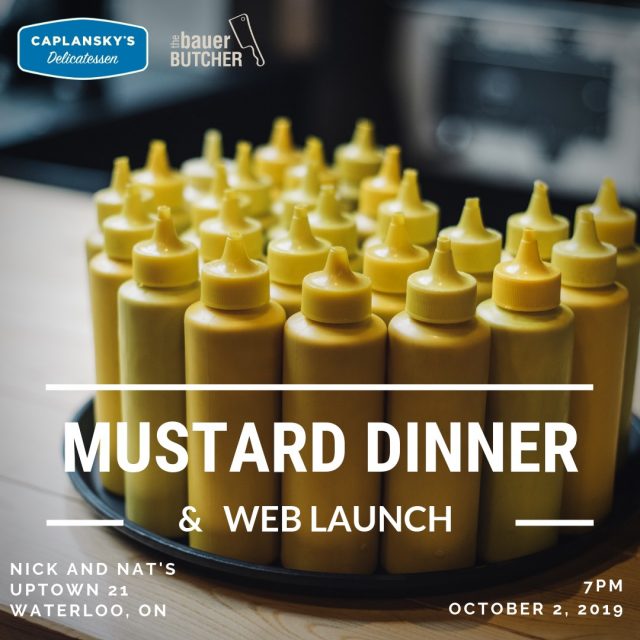 That's cool … and I'm happy for Zane. And for folks who love his food.

The launch date for the online store is October 2. And the first Caplansky's products that will be available are a quartet of deli mustards: Ballpark, Mild, Horseradish and Spicy ($8 each). A percentage of mustard sales go to No Kid Hungry.
October 2 Uptown 21 "Mustard Dinner"
In an ever-changing food landscape, this is, apparently, the world's first "virtual deli," according to Caplansky. It's a place where he says you can kibbitz (and who doesn't love a good kibbitz?), and there's also a blog, podcast, and social media and YouTube content as well as mustard. (Did I tell you how much I love mustard? Well, I'm looking forward to these mustards to be sure.)

In the near future, check the website for news of other Caplansky merch and product releases including his smoked meat, corned beef, beef bacon (I sure remember that from Thunderin' Thelma, his former food truck, when it visited Kitchener) and smoked meat burgers, and more. (I will confess to being a fresser, especially when it comes to good deli food — a niche we are missing here in Waterloo Region.)
However, what I really appreciate is that Caplansky is actually coming to town to launch the store, and he's partnering with some great local cooks.
What he refers to as his "earthbound launch party" takes place at none other than our own Nick & Nat's Uptown 21. The "Mustard Dinner" has some very cool stuff: it's four-courses and mustard-themed and prepared by a trio of well-known Waterloo Region cooks: Jon Rennie, Matt (The Bauer Butcher) Kendrick and Nick (The Fat Sparrow) Benninger.

"I'm thrilled to be working with these three pot bangers," Caplansky says. "There will be so much talent in one kitchen. It's a very exciting and very humbling collaboration."

The date is Wednesday, October 2 (7 p.m.). Tickets are $45 and are available at Uptown 21.
I'm going. And I encourage you to join the mustard dinner and the Caplansky's Deli party with Zane, Jon, Matt and Nick.
Kudos to Caplansky for his re-brand and expanding his horizons. More kudos for partnering with three of our local cooks in celebrating the news.