Burgers 'n' beer for oneROOF Youth Services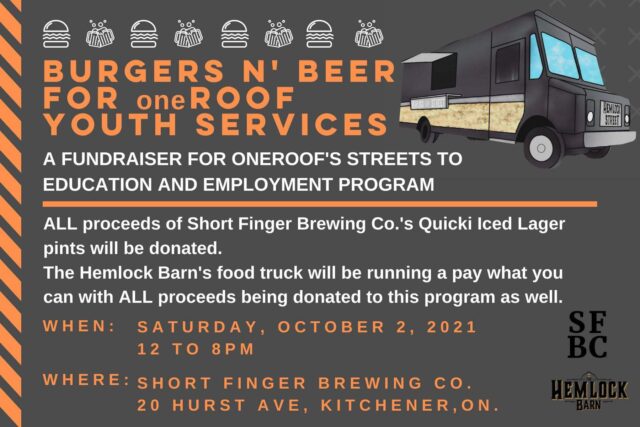 Reading Time:
< 1
minute

October 2 >>> Mark it on your calendar!

It's a delicious collab between two popular local food-and-bevie businesses supporting oneROOF Youth Services: "Burgers n' Beer for oneROOF" is Saturday, October 2, from high-noon to 8 p.m.
The event pairs Hemlock Burger Barn (HBB) and Short Finger Brewing Co. to raise money for a oneROOF program called "From Streets to Education and Employment."
oneROOF Youth Services is committed to providing for the safety, support and overall well-being of youth who are experiencing homelessness, and youth who are at-risk of homelessness, aged 12-25, in Waterloo Region.

"I feel that giving back to our community is important for a small business owner," said HBB owner Josh Perovic. "It's great to see like-minded people reaching out and their overwhelming interest in giving back and supporting this cause."

Every year, HBB teams up with a brewery for a "pay-as-you-can" event.

"Last year, we raised over $7,000 for the streets to education and employment program, and this year we hope to surpass that number with the help of Short Finger Brewing," added Perovic.

All proceeds from the sale of Short Finger's "Quicki Ice Lager" pints will be donated.

And as well, the Hemlock food truck will be running a "pay-what-you-can" menu with, similarly, all proceeds being donated.

For these businesses and the public who give their support, the focus is on the community and its well-being — and that is good for us all, according to Perovic.
"Everyone who wants help making their life better, and is willing to put in the work, should have the opportunity to receive that help," he says. "That's why we do this."

The event is at Short Finger Brewing Co., 20 Hurst Avenue, Kitchener (off of Courtland Avenue).